Ford (F) reports 2Q12 results on July 25th before the market opens.
The Street expects:
Revenue: $32.2 billion
EPS: $0.28
Q3 revenue guide: $31.8 billion
In Q1, Ford reported EPS of $0.39 per share vs consensus of $0.35 on $30.5 billion vs consensus of $31.5 billion. North America registered a pretax profit of $2.1 billion that beat the consensus of $1.9 billion. Margin also came in better than expected (11.5% vs 10.3% y/y). Europe was a bit off due to softness in the macro environment but still came in better than consensus and registered a $149 million pretax loss. South America's $54 million pretax profit was shy from $77 million consensus estimate. In my view, lower sales could partially due to aggressive pricing from Chinese automakers that have been selling comparably equipped models at lower price points than those of US and Japanese counterparts. Asia also disappointed with a pretax loss of $91 million vs consensus estimate of $41 million pretax loss.
Heading into the earnings, investors can expect softness in Europe to continue weigh on the Ford's profit.
Late last month, Ford issued a non-US profit warning with the following highlights:
International losses could reach $570 million vs $190 million in Q1 driven by significant market deterioration in Europe where light vehicle production was down 13% y/y and 12% q/q. Going forward, Ford will likely face continued pressure due to high fixed cost
Asia will continue to register a pretax loss due to intensifying competition, margin deterioration, and continued investment in the region
South America will not perform any better due to a combination of FX controls, trade barriers and weak currencies
On the other hand, North America will likely to perform within expectations. Earlier this month, June's US light vehicle SAAR came in at 14.08 million vs consensus of 13.8 million, representing the best June since 2007.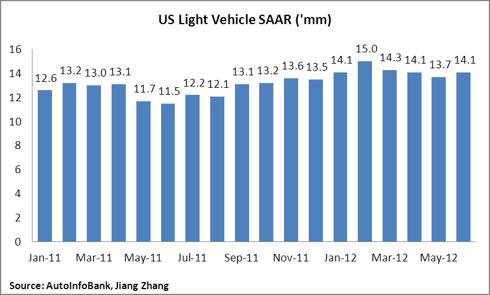 June SAAR figure was a bit of a surprise after the weak May figure but does highlight the resilient consumer auto demand in the US despite soft macro environment as consumers replaces older models with news models that have superior technology and features. Judging by the trend for the first half, I am quite comfortable with 14 million SAAR for 2012.
However, investors need to note that steady performance in North America will unlikely offset International weakness in the long-run, given that International accounts for 41% of Ford's total revenue in 1Q12.
Disclosure: I have no positions in any stocks mentioned, and no plans to initiate any positions within the next 72 hours.