Kimberly Clark develops, manufactures and markets personal care products (Huggies Pull Ups, Little Swimmers, Goodnights, Kotex, Depends, Kleenex, Scott, Cottonelle tissue and Viva paper towels). KMB has grown its profits and dividends at a 4-9% annual rate over the past 10 years earning an amazing 30%+ rate of return on equity. As with many of our companies, Kimberly experienced flat earnings in the last five years as it dealt with consumers 'trading down' to generic brands. However, the company is seeing improvement in its bottom line this year which should continue as a result of:
(1) significant cost cutting as well as better supply chain management and the formation of a global procurement organization. These measures should result in $150-$200 million of cost-savings in 2012. In addition, it is restructuring its pulp and tissue division, streamlining and closing five or six facilities this year. KMB believes this action will increase profits by roughly $75 million in 2013,
(2) expansion into emerging markets, KMB gets almost half of its revenues outside the U.S. with the lion's share [approximately 36%] coming from Asia, Latin America, the Middle East, Eastern Europe and Africa especially China, Brazil, India and Russia,
(3) new product innovation. Recent new product include Huggies Little Movers Slip-On Diapers, Poise Hourglass Shape Pads, Kleenex Cool Touch facial tissue, and improved Cottenelle bathroom tissue, which should help improve market share,
(4) a significant stock buy back program---$1 billion in 2012. Plus the company has raised its dividend in 39 consecutive years.
Negatives:
(1) volatile in global commodity currency, and financial markets which exert downward pressure on the margins,
(2) KMB is increasingly dependent on a handful of customers, which reduces its pricing power against these giant retailers,
(3) increasing cost inflation which has driven up costs; further, resulting price increases have negatively impacted consumer sales.
KMB is rated A++ by Value Line, carries a 51% debt to equity ratio and its stock yields 4.0%
Statistical Summary
| | | | | |
| --- | --- | --- | --- | --- |
|   | Stock Yield | Dividend Growth Rate | Payout Ratio | # Increases Since 2002 |
| KMB | 4.0% | 4% | 64% | 10 |
| IND* | 2.5 | 11 | 4 | NA |
| | | | | | |
| --- | --- | --- | --- | --- | --- |
|   | Debt/Equity | ROE | EPS Down Since 2002 | Net Margin | Value Line Rating |
| KMB | 51% | 33% | 3 | 8% | A++ |
| IND* | 36 | 20 | NA | 13 | NA |
*IND is the average of the Household Products Industry as compiled by Value Line
Chart
Note: KMB stock made great progress off its March 2009 low, surpassing the downtrend off its June 2007 high (red line) and the November 2008 trading high (green line). Long term, the stock is in an uptrend (straight blue lines). Intermediate term, it is in an uptrend (purple lines). Short term it is in an uptrend (brown line). The High Yield Portfolio owns a 75% position in KMB. The upper boundary of its Buy Value Range is $51. The lower boundary of its Sell Half Range is $87.
Bottom line: while KMB meets all of the financial criteria for inclusion in our Portfolio and while we remain optimistic about the long term growth prospects for the company, the stock price is approaching overvalued territory. When that happens, our strategy is to reduce a holding to 50% of its normal size which in KMB's case would occur at $87. For the extremely long term oriented investor, we think it far too late to be buying this stock.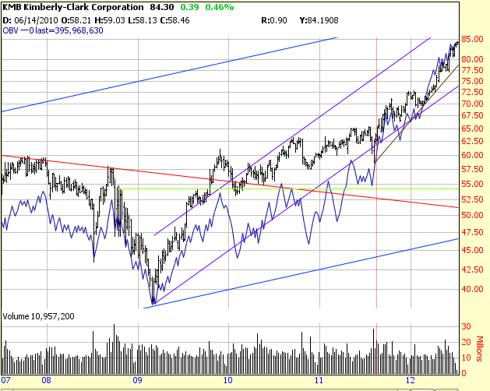 Click to enlarge
http://finance.yahoo.com/q?s=KMB
Disclosure: I am long KMB.