Market Recap
The market continued its positive movement after another round of good earnings came out today and was able to battle back from some weaker data points. Existing Home Sales, Philly Fed, and Initial Jobless Claims all came in negatively. Yet, some good earnings from eBay (NASDAQ:EBAY), Textron (NYSE:TXT), and overhang from Bernanke comments allowed the market to ignore the data and press higher.
Some suggest that negative data is now a buy point because the more of it there is, the more fuel for QE3 there is. Good data points stall the inevitable. That view is all good and well but what people forget is that at some point this data means that even QE cannot help us, which is definitely something we are fearing. All in all, the market's rally into options expiration seems technical and based very little in realistic data points.
Tomorrow, we may see some weakness if Google (NASDAQ:GOOG) does not blow things out. There is no data tomorrow, and we had a good week. A lot of traders will want to lock in gains, and shorts are already out mid-week. Earnings and Europe will be the key points tomorrow, so watch for that.

Two Trades
Two trades we like right now are long Ulta Salon Cosmetics & Fragrances (NASDAQ:ULTA) as well as long in KBR (NYSE:KBR). Both stocks look very solid right now. Ulta gave us a nice entry today as it starts to appear to breakout. The company has been holding a pivot point at 91.50 for the past week, and it should see some nice movement off that level. The stock broke the 20-day MA earlier in the day but fell back below it. Yet, it seems to be showing a consolidation that is ready to breakout. The company had great earnings in June, and we believe that earnings will give the company a lack of major downside moving forward.
KBR got a great buy signal today from a Goldman Sachs (NYSE:GS) downgrade. What? Downgrade buy signal? Well, we believe that the GS downgrade is a great buy because its still a Buy and the downgrade typically gives short-term weakness in a long-term successful stock. The technicals look great on KBR as well.
Trade #1: ULTA, Long
Trade #2: KBR, Long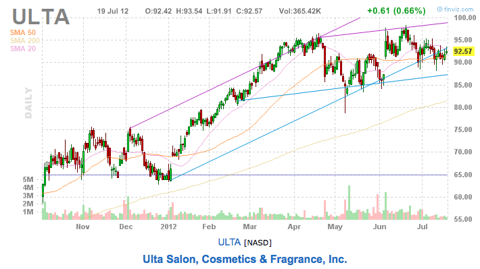 Tomorrow's Outlook
Tomorrow, the market may be setting up to give up a little to end the week. Data is really slow tomorrow, so it will be up to earnings mostly. Earnings tonight from Chipotle (NYSE:CMG), Google (GOOG), and Microsoft (NASDAQ:MSFT) will be extremely important to movement tomorrow as well as earnings for Friday morning from General Electric (NYSE:GE), Schlumberger (NYSE:SLB), and Xerox (NYSE:XRX) will also be important.
Overseas, we have a few data points to watch as well as with no attention to data. We may see some more attention to Europe's situation, which is never good for the market. Short covering that happens on Fridays probably already happened this week, so we may see more profit taking to end the week as well. A quiet day, though, may be in order on options expiration day.
Oxen Group Moves:
We had another nice day in the market as we took gains in SPDR Housing (NYSEARCA:XHB), Apple (NASDAQ:AAPL), and Skechers (NYSE:SKX). We took a 1% gain in XHB and 1.5% gain in SKX from our Short-Term Equity Portfolio. We took a 17% gain in AAPL from our Options Portfolio. We did take a loss, however, in long Weight Watcher (NYSE:WTW) and short Kansas Southern (NYSE:KSU). We added long in VeriSign (NASDAQ:VRSN) to Earnings Alpha as well as long in ULTA to Short-Term Equity. We added longs in KBR and Ecopetrol (NYSE:EC) to our Goldman Up/Down Paper Portfolio.
We have the following positions:
In our Short-Term Equity Portfolio we are long Ulta , Skechers , Dollar Tree (NASDAQ:DLTR), Ashland (NYSE:ASH). We are short Pall (NYSE:PLL), McDonalds (NYSE:MCD).
In our Options Portfolio, we are long Monsanto (NYSE:MON), Starbucks (NASDAQ:SBUX), Dollar General (NYSE:DG) and AutoZone (NYSE:AZO). We are short Aflac (NYSE:AFL), Garmin (NASDAQ:GRMN), Facebook (NASDAQ:FB). We have a reverse iron condor on Apple and Direxion Daily Financial 3x Shares (NYSEARCA:FAS).
In our Earnings Alpha Portfolio, we are long VeriSign , Seagate Tech (NASDAQ:STX), Apple , Capital One (NYSE:COF), Disney (NYSE:DIS), Ashland , Vertex (NASDAQ:VRTX), Intuitive Surgical (NASDAQ:ISRG), Marriott (NYSE:MAR). We are short Pitney Bowes (NYSE:PBI), Schlumberger and Walgreen (WAG). We have a reverse iron butterfly in Decker's Outdoor (NASDAQ:DECK) and F5 (NASDAQ:FFIV).
In our Goldman Sachs Up/Down Paper Portfolio, we are long Ecopetrol, KBR, Calpine (NYSE:CPN).
Chart courtesy of finviz.com.
Disclosure: I have no positions in any stocks mentioned, and no plans to initiate any positions within the next 72 hours.