Dividend growth holding Kinder Morgan Energy Partners (NYSE:KMP) reported slightly disappointing earnings on Wednesday afternoon. The firm earned $0.37 per unit for the second quarter, $0.10 short of the consensus estimates, but up 23% year over year. Revenue fell 4.4% year over year to $1.85 billion due to lower natural gas prices. However, given the firm's structure, earnings per share take a backseat to distributable cash flow, which grew 13% compared to the same quarter last year. Kinder Morgan also increased its payout to $1.23 per unit, up 7% over a year ago. Shares now yield about 5.8% at current levels. Nevertheless, we think the company remains fairly valued.
Click to enlarge image.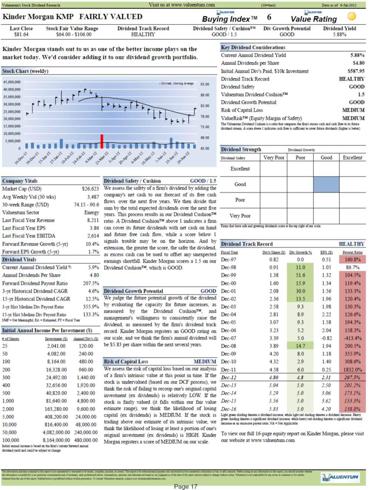 Click to enlarge
The natural gas pipelines business posted solid operating results in the second quarter, with earnings growing 25% to $238 million. Much of this growth was attributable to the company's acquisition of PetroHawk's (NYSE:BHP) 50% interest in KinderHawk and improved volumes, which grew 6% compared to the same period in 2011. The CO2 business also posted strong results, with the segment's earnings increasing 19%, to $320 million. However, that is short of the firm's 26% growth target, which it doesn't believe it will achieve due to lower NGL prices.
Earnings in the firm's Products Pipelines segment fell $9 million year over year, to $166 million. Though the Cochlin and Cypress pipelines benefited from a 27% rise in natural gas liquids (NGL) volumes, total refined products volumes decreased by 0.9%. Furthermore, operating earnings decreased as a result of lower rates from the Federal Regulatory Commission as well as the California Public Utilities Commission.
Management reiterated its target of distributions of $4.98 per unit and expects the company will use its entire distributable cash-flow in order to reach this target. The firm issued $154 million in units in the second quarter, so we think the firm will retain solid financial footing. With the acquisition of El Paso completed, and 50% of El Paso's natural gas pipeline to be acquired from Kinder Morgan (NYSE:KMI) in the third quarter, we think the firm is poised for growth. Even with low NGL prices, the firm will be able to generate substantial cash flow. We hold units in our Dividend Growth Newsletter, but we'd wait for the firm's Valuentum Buying Index score to improve before putting more money to work in the name.
Disclosure: I have no positions in any stocks mentioned, and no plans to initiate any positions within the next 72 hours.
Disclaimer: KMP is included in our Dividend Growth Newsletter.