Commodity Chart Of The Day
Weekly Gold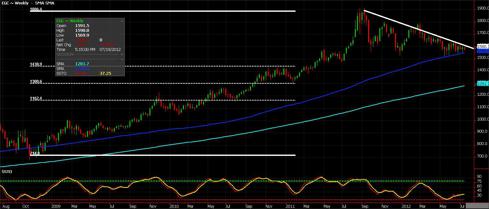 Click to enlarge
Let's take a longer term look at gold and see what the tea leaves are telling us. Clearly, the trend has been up for the last three years. But for the last nine months, gold has been trending down. In fact, prices are nearly 20% off their record highs reached in September 2011.
The darker blue line is the 100 day MA and on a breach of that level at $1550, I would not rule out a trade to $1440. This would represent a 38.2% Fibonacci retracement to the $1200 move in the last 3½ years.
What excites me more than getting short gold in this environment is the prospect of buying at lower prices. If we see a washout dragging gold near $1400/1450, I would recommend being an aggressive buyer. I say this because I believe we could see $2000/ounce in the next two years. I recognize to trade to $1425 is a 10% decline, and people say "no way," but prices have fallen 12% just in the last six months. In commodity trading, if you trade long enough, you will realize anything is possible.
Risk Disclaimer: The opinions contained herein are for general information only and not tailored to any specific investor's needs or investment goals. Any opinions expressed in this article are as of the date indicated. Trading futures, options, and Forex involves substantial risk of loss and is not suitable for all investors. Past performance is not necessarily indicative of future results.
Disclosure: I have no positions in any stocks mentioned, and no plans to initiate any positions within the next 72 hours.