In a market of thousands of stocks, somehow a select minority generate a majority of debate and arguments. The passions surrounding these stocks often reach fevered levels, and it is important for investors to maintain calm while analyzing a stock. That is true for every company, including Arena Pharmaceuticals (ARNA).
Arena is a company that generates fierce reactions from investors on both sides. After all, when a stock rises by over 400% year-to-date, that is to be expected.

Click to enlarge
With Arena's first product, Belviq, now approved by the FDA for "chronic weight management," the company has entered a new phase. Going forward, Arena will rise and fall alongside Belviq's results. That is what is needed to mitigate the long-term losses in the stock. How much money you made in Arena from the approval of Belviq depends on when you first bough the shares. Though the stock may be up over 400% in 2012, it is down over 60% since going public.

Click to enlarge
In our view, the easy money has been made here. Now, it is time for Arena to prove that the drug it has spent years and enormous sums of money developing can be a blockbuster. So where exactly do we go from here? Arena is transitioning away from a developmental stage company into a commercial biotechnology company, and as such, now faces a different set of expectations.
Belviq: Manufacturing a Blockbuster and a Partnership
Belviq is set to be available in early 2013, and will be manufactured in Switzerland and sold to Eisai, which has marketing and distribution rights to Belviq in North America (because of the way Belviq works, it has the potential to be abused, which is why the DEA must rule on how to schedule the drug. Should the DEA process go faster than expected, Belviq may begin selling earlier than that). It is this partnership with Eisai, which was struck in 2010, that we would like to focus on, for it will be one of the most important aspects of the Arena story going forward. Under the terms of the deal, Arena will manufacture Belviq and then sell it to Eisai, which will then resell it in the United States, by far the biggest market for Belviq.
Arena is set to receive anywhere between 31.5% and 36.5% of Eisai's net Belviq sales in America. The rate rises to 36.5% above net Belviq sales of $750 million.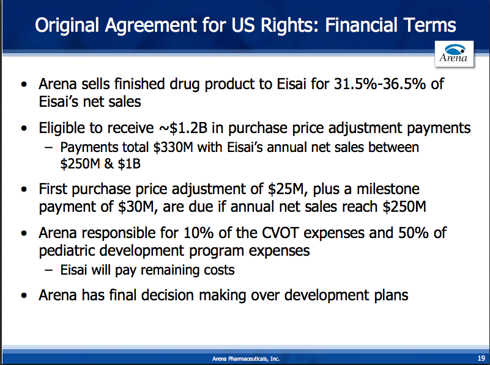 Click to enlargeArena is also set to receive over $1 billion in price adjustment payments, and Eisai bears the majority of post-approval clinical trial costs. It is responsible for 90% of cardiovascular outcome trials (CVOT) and half of the expenses for pediatric studies. After striking this agreement, Arena and Eisai expanded it to cover the rest of North and South America, with Arena's payment percentage set at 30.75%-35.75% of net sales in those countries.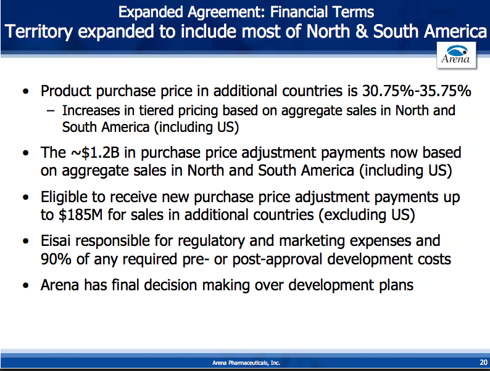 Click to enlargeArena is once again set to bear only a minority of regulatory and post-approval expenses, be they marketing or clinical. Essentially, Arena is receiving an extremely high royalty rate on Belviq, as it will have little in the way of expenses to pay relating to Belviq. That will free up Arena to return focus to its pipeline, where there are several projects in the works. But first, we need to discuss road ahead for Belviq, as well as the company's financials.
Belviq Goes International
With Belviq now approved in the United States, Arena can turn its attention to expanding internationally. In March, the company filed for approval of the drug with the EMA (European Medicines Agency). England is the company's rapporteur and Sweden is the company's co-rapporteur. This is a Europe-specific requirement for drug approval. Rapporteurs are country-specific regulators within the Europan Union that help the CHMP (the Committee for Medicinal Products for Human Use), which reviews and evaluates marketing applications. Rapporteurs perform scientific evaluations of a marketing application and present an assessment of it the CHMP, which then takes it into account as part of its decision making process. The review process in the European Union will be centralized, meaning that approval will be valid throughout the entire European Union, as opposed to just a subset of member states. Arena has not given an timeline as to when it expects a decision regarding Belviq from the EMA, However, it has stated that Day 120 questions in late July. On July 11, Arena also filed for approval of Belviq in Switzerland, but declined to give a timeline for potential approval.
As Arena notes, obesity rates in many European countries have tripled in the past 30 years, which sets up an opportunity for Belviq. For the record, Vivus (VVUS) is set to present data to the CHMP in September regarding Qsymia. We expect to hear more about what is going on in Europe from Arena when it reports its second quarter results in August (an exact date has not yet been set). In addition, Arena has said that it is looking for a European partner for Belviq, and we expect an update on that front during the upcoming earnings conference call as well.
Financials: When the Rubber Meets the Road
Going forward, Arena's stock will not rise and fall simply on what happens with Belviq on the regulatory front. When the drug launches, Arena will be judged on how well it sells, and not if the company can get the drug approved. In the years to come, that is what will drive the stock.
Arena has lost well over $1 billion since it was founded due to the costs of developing Belviq. And in its last quarter, the company lost another $29.4 million, or 18 cents per share. However, with Belviq now approved in the United States, the company appears to be on a path to profitability. However, consensus estimates (based on data from Reuters) call for a loss of 33 cents per share in 2012, and 17 cents in 2013.

Click to enlargeBloomberg's consensus estimates for Arena are more pessimistic, with the consensus for 2012 being a loss of 46 cents per share, and 29 cents in 2013. While some analysts forecast 2014 as the year that Arena will post a profit (Merrill Lynch estimates a 1 cent per share profit for 2014), Wall Street is still pessimistic, with the Bloomberg consensus estimate calling for a loss of 8 cents in 2014.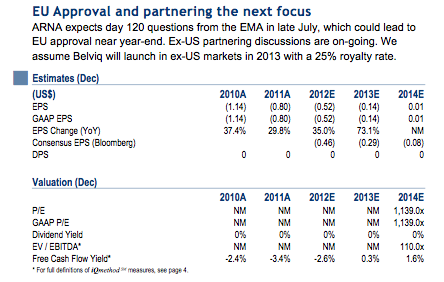 Wall Street is pessimistic about Belviq's potential. While Arena's supporters may see that pessimism as unfair, it is important to know that what analysts think matters. The reason why is not because they are correct, or offer a perfectly accurate forecast. The reason is that institutional investors, the ones that drive money flows in the market, buy into what analysts say. That is why if analysts are pessimistic about Arena, institutional investors are likely to be as well. Retail investors in Arena need to understand this. You may be correct in your profit estimates for Arena, but until analysts begin raising estimates for Arena, institutional investors will almost certainly maintain a skeptical view of the company, even if it is unwarranted.
With Arena posting consistent losses, its cash is being burned away. In the last quarter, Arena burned just over $22 million, and that is set to continue. However, Arena has over $88 milliion in cash, and raised $69.6 million in gross proceeds from a stock offering in May. At its current burn rate, Arena has about 7 quarters of cash left. However, as Belviq sales begin in early 2013, and payments from Eisai start to arrive, there will be less pressure on Arena's cash position. We would like to hear Arena's management talk about the company's capital plans when Q2 2012 earnings are released. In our view, what the loss is (the Reuters consensus calls for a loss of 8 cents per share) is not important. What Arena says on the conference call is much more important, and we will be listening closely.
Patents and Pipelines
Shares of Vivus were slammed on July 19 after Citron Research published a detailed report outlining the weak patent protection of Qsymia. While whether or not Citron's claims are valid is an issue for another article, it is important to note that Arena seems to have all of its ducks in line when it comes to Belviq's intellectual property. Arena has patents for Belviq in all major markets, including the United States, Japan, China, and Europe, with the first expiration set for 2023.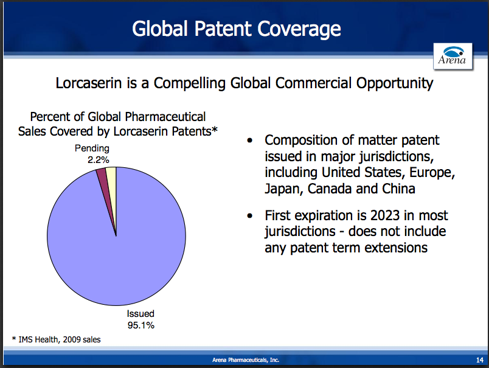 Click to enlargeNow that Belviq has been approved, focus can return to the rest of Arena's pipeline. Arena has 4 compounds in various, albeit early stages of development, with APD811, for the treatment of pulmonary arterial hypertension being the furthest along. APD811 is in Phase I trials, and the other 3 compounds are in the research and preclinical phases. While these compounds are far from potential approval, focus can now return to them, from the perspectives of both Arena itself and its investors. We expect the company to provide some sort of pipeline update on its upcoming earnings call, as almost no company [aside from Alexion Pharmaceuticals (ALXN), which sells Soliris] can truly succeed by selling just one drug. Arena will, sooner or later, have to diversify away from Belviq. With Qsymia now approved and Orexigen's (OREX) Contrave in late-stage trials, competition will be fierce in the obesity drug space. Arena has 4 products in the pipeline, while Vivus and Orexigen each have 2. For Orexigen, however, Contrave is one of those 2 drugs, making the company even more reliant on its success than Arena or Vivus are on their obesity drugs (and Orexigen's other pipeline drug is for obesity as well). And Vivus also sells Stendra, for the treatment of erectile dysfunction, which was approved at the end of April by the FDA. Arena's pipeline is deeper than that of either Vivus or Orexigen, which gives investors more potential ways to profit, as there are more chances for a successful clinical trial.
Conclusions
Arena Pharmaceuticals has certainly seen a great deal of drama in the past few years. Now that Belviq is approved in the United States, the company is entering the next phase of its life. As Belviq begins selling, the focus will shift to Arena's financials, and the company will have to show that it and Eisai can make Belviq a success. In addition, a renewed focus on Arena's pipeline will bring more potential opportunities for both the company and its investors. Depending on how well Belviq sells, analysts may ratchet up earnings estimates, which would cause institutional investors to re-examine their view of Arena Pharmaceuticals. That could provide another catalyst for the shares to rise. The past few months and years have certainly been interesting ones for Arena Pharmaceuticals. And we expect that the road ahead will be just as interesting.
Disclosure: I am long ARNA, VVUS, OREX, ALXN.
Additional disclosure: We are long all 4 of these companies via several biotechnology ETF's.