Everyone who reads my articles knows that I own General Electric (NYSE:GE) stock. I support owning it, and I believe that just about every portfolio should have General Electric as a core holding.
That being said, if you do not already own the stock, I would not open a position right now. If you already own the stock, I would not add any shares. Nor would I dump the shares either.
Given the recent run up in the share price, I think the correct strategy is to hold.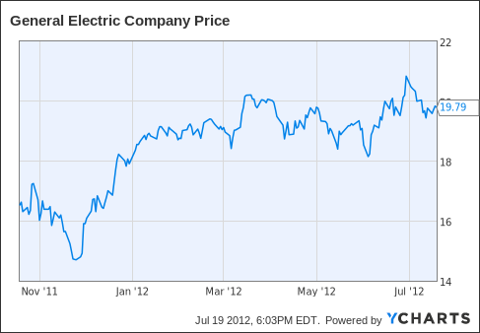 Click to enlarge
The price has increased significantly since 9 months ago, and GE barely beat estimates last quarter. It is up over 30% since last November.
Since the company is due to release earnings Friday morning, let's just review some of the estimates:
The average estimate from analysts is for net income of $.37/share
That reflects a 12% increase from last year
Analysts are estimating an increase of 20% in profits over last year
GE beat last quarters estimates by $.01/share for the 2nd "beat" in a row
Liabilities increased by about 25% and assets decreased by about 2%
Analysts estimate a 3% increase in top line revenue growth to about $37 billion
Now none of these estimates are in and of themselves outrageous or impossible. Quite the contrary, I think General Electric could actually turn in their 3rd consecutive quarter of earning beats.
The issue is that the stock has risen very nicely over the last nine months, as you can see in the above chart. It takes into account the last 2 quarters of beaten estimates, a cleaner balance sheet, and the anticipation of further growth.
I am the first guy to jump on the GE bandwagon folks, but this entire scenario looks like a "buy the rumor, sell the news" story. I think another positive earnings estimate is already in the price and we MIGHT see a pullback.
I say we sit back and wait awhile before doing anything. What do YOU think?
Disclosure: I am long GE.