St. Jude Medical (NYSE:STJ) looks like a weak to moderately strong buy. For 20 out of 28 analysts, it's a buy or outperform based on its fundamental outlook, according to Reuters. Analysts surveyed by Reuters rate the stock a buy, giving it an average rating of 1.89, with a one being a strong buy and a five being a strong sell. The Jaywalk consensus rating is higher and less positive, but still a weak buy at 2.36.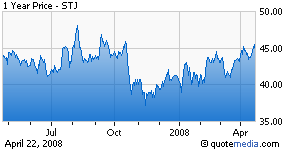 Technically, the stock looks like a buy. STJ also may be a good covered call trade. On Tuesday, STJ closed at $44.37. On April 16, STJ reported that in the quarter ended March 29, its earnings per share rose 26.8% on a 14% increase in net sales. Equally important, STJ raised its EPS guidance for the year. The news release is here.
Fundamentally, according the company's key statistics published on Yahoo.com, STJ' forward PE is 18.38; trailing 12 months PE, 26.4; PEG ratio, 1.38; profit margin, 15.3%; operating margin, 24.8%; return on assets, 11.5%; and return on equity 20.8%. Insiders hold 1.9% of the stock and institutions 84.5%. The company's total debt to equity is 44% and it has a low long-term debt to equity ratio of 6.5%. It does not pay a dividend but is buying back stock.
During his conference call with securities analysts, Daniel J. Starks, chairman and CEO, said:
We target a minimum 15% compound annual growth and earnings per share. To reach this target we focus on a combination of sales growth and improvement in the operating margin. We regularly have said that to the extent we succeed in both sales and productivity gains we will over achieve short-term results expand long-term investments or both.
So far this month, STJ has announced an acquisition and the approval by the FDA, the EU and Japan of various products. On April 9, STJ announced it will acquire EP MedSystems (Nasdaq EPMD) for approximately $92.1 million. The deal is expected to close during the third quarter.
On April 14, STJ announced FDA and European CE Mark "approvals of Eon Mini[tm], the world's smallest, longest-lasting rechargeable neurostimulator to treat chronic pain of the trunk or limbs and pain from failed back surgery." Read the news release here.
Investor's Business Daily (investors.com) gives STJ high fundamental and momentum ratings. It gives the stock a composite rating of 97, or an A+, the best out of 122 stocks in its group. STJ gets a 90 EPS rank, 82 relative strength, B on industry group strength, A on sales + profit margins + return on equity and A- on accumulation/distribution.
"St Jude Medical Inc stock has been experiencing heavy buying, based on its daily price and volume changes over the last 13 weeks," according to IBD. Standard & Poor's gives STJ four stars out of a possible five. Morningstar.com gives St. Jude three stars because the stock is near its fair value estimate of $51. M* says consider buying the stock at $38.30 and consider selling at $66.30.
Credit Suisse's Kristen Stewart's not so impressed, giving the stock a neutral and a $43 target price. She notes that in the first quarter, STJ's "didn't really" increase its sales guidance, and she expects that to compress, or cut, the company's PE ratio. Reuters Company Research rates STJ an underperform. This is primarily because the stock has rallied 5.7% in the last 30 days, and there is much of what Reuters calls "catch-up value" left in the stock price. Reuters' computer model projects that STJ's EPS will grow over the next five years at a 15.6% annual rate compared with 16% over the previous five years. It projects that Medtronic's (NYSE:MDT) growth rate will slow to 14.3% over the next five years compared with a 24.6% rate over the previous five. That's good growth for both companies, but it's slowing, which investors don't like.
Rochdale Securities, which often puts a lower fair value on stocks than other independent research firms, says STJ's economic value added fair value is $30 and rates the stock a hold for the next 12 months. "Economic value added represents economic profit, the total economic return for the capital holders above and beyond all economic costs," Rochdale explains.
For 2008, Rochdale projects that STJ's return on capital will fall to 14.1% from 15.1% in 2007, but it will still be excellent and well over its 8.8% cost of capita. STJ will beat its peers' projected return on capital of -6.6%, Rochdale says. STJ' peers are 132 companies in the health care equipment sector.
Technically, STJ recently broke out on its point and figure chart, which has a bullish objective of $53. It has been in a $10 trading range since early 2007. Daily and weekly charts are bullish and the monthly chart is mixed to bullish. In the options markets, traders who speculate on covered calls by buying the stock and selling call options on an equal number of shares were getting an annualized return of 43.6% on the May 45 strike calls. This suggests call buyers think the stock can go to about $46.50 or higher before the options expire in 26 days.
The January 2010 50 strike leaps calls, which I own, show speculators think the stock will touch or top $55.90 before they expire. Thus, the options markets are pretty much confirming Morningstar's fair value estimate of $51 and the point and figure objective of $53. Those leaps look pretty expensive, with implied volatility at 34.2 and historical volatility at 19.2.
However, both the implied and historical volatilities are close to their 52-week lows, which makes them look a bit cheaper than at first glance. The risk of buying a high-volatility option is that the volatility could decline as the stock rises. When volatility shrinks, option prices fall. On the bearish side, STJ January 2010 50 strike puts point to a price of about $41.20. STJ's close competitors include Abbott Labs (NYSE:ABT), ATS Medical (ATSI), Boston Scientific (NYSE:BSX), Edwards Lifesciences (NYSE:EW) and MDT.
Disclosure: I own STJ January 50 calls.