I'm becoming convinced that Chinese stocks are presenting an opportunity for swing traders. These particular stocks accomplish their moves in gaps. Here is China Life Insurance (NYSE:LFC):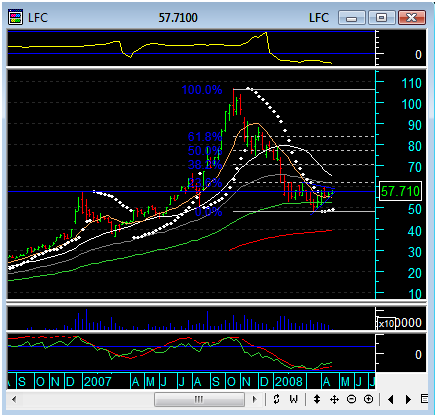 To see China Life trading in the $50 range after last year's parabolic run, which began in many of these names last August, for the institutional long-term buyers, this is somewhat of a reprieve. The market is overly discounting China right now, a lot of bad p.r. around the Olympics, but the stimulus injection the Olympics will undoubtedly create will be felt this year and next.
At the very least, I think a more appropriate price for China Life is much closer to $75. Continued strength in the Yuan will have a positive effect on these names, so $85 could be forecast by some estimates. On the flip side, to attach a bearish pair to this long idea, one might consider Aluminum Co. of China (NYSE:ACH). At $40, it remains overvalued and the same positive factors influencing China Life are acting as a headwind for China Aluminum. I see fair value for ACH close to $24.
China Southern is the country's largest carrier, and their growth is mind boggling but not surprising. Look at these ratios:

Long term weekly chart of China Southern (NYSE:ZNH):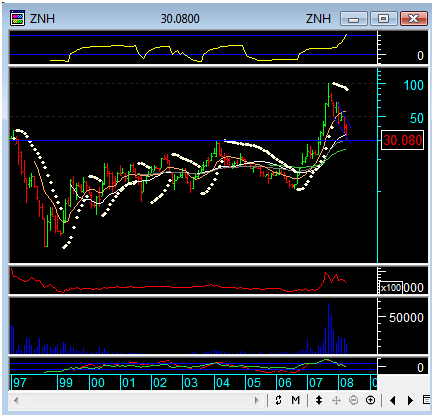 My numbers suggest China Southern is worth closer to $50 based on their recent earnings release. Again, institutional long-term buyers are relieved about where prices are now compared to the runaway in early '07.
Disclosure: None