An investor usually sells a put option if his/her outlook on the underlying security is bullish. The buyer of the put option pays the seller a premium for the right to sell the shares at an agreed-upon price. If the stock does not trade at or below the agreed-upon price (strike price), the seller gets to keep the premium.
Benefits associated with selling puts
In essence, you get paid for entering a "limit order" for a stock or stocks you would not mind owning.
It allows one to generate income in a neutral or rising market.
Acquiring stocks via short puts is a widely used strategy by many retail traders and is considered to be one of the most conservative option strategies. This strategy is very similar to the covered call strategy.
The safest option is to make sure the put is "cash secured." This simply means that you have enough cash in the account to purchase that specific stock if it trades below the strike price. Your final price would be a tad bit lower when you add the premium you were paid up front into the equation. For example, if you sold a put at a strike of 20 with two months of time left on it for $2.50; $250 per contract would be deposited in your account.
Time is on your side. Every day you profit via time decay as long as the stock price does not drop significantly. In the event it does drop below the strike you sold the put at; you get to buy a stock you like at the price you wanted. Time decay is the greatest in the front month.
Suggested Put Strategy for Morgan Stanley (MS):
It has been trending sideways since June and is attempting to put in a base in the $12.50-$13.00 ranges, a zone that offers a pretty good degree of support. As it could potentially test its lows again, investors should consider dividing the money they intend to invest in this play into two lots. Deploy one lot now and one lot if it trades to or below $12.50. Investors can sell the Jan 2013, 13 puts now and if it dips to $12.50 or below, investors can sell puts with strikes in the 10-11 ranges. A weekly close above $15 on good volume will be a bullish development and should result in a test of the $18-$20 ranges. If this comes to pass investors should consider buying back the puts they sold.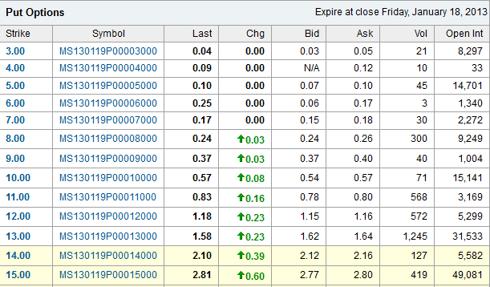 Click to enlarge
Sell the Jan 2013, 13 puts for $1.62 or better. For each contract sold, $162 will be deposited in your account. If the stock trades below $13, the shares could be assigned to your account. Your final cost per share will be $11.38 per share. If the shares do not trade below the strike price, you get to walk away with a gain of 12.4%
Risk factor
As you were bullish when you put this strategy into play, you should actually be looking forward to getting into this stock at a lower price. The only risk factor is that you have a change of heart. Maybe you are not as bullish as before, and, or you feel it could trade much lower than the strike price you sold the puts at. If this is the case, you can roll the put. You simply buy back the puts you sold and sell new out of the money puts with more time on them. For example, if you sold the Jan 13, 2013 puts, you could now consider selling the Jan 11 puts with a bit more time on them.
With this strategy you are essentially taking on the same risk that is associated with owning shares in the company. The only difference is that you have the chance to get in at a better price or at least get paid for trying. The premium from the put you sold also provides you with some downside protection. In this example, your break-even point would be $11.38.
Company: Morgan Stanley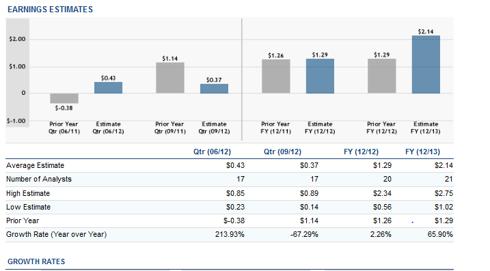 Click to enlarge
Brief Overview
Sales vs 1 year ago = 3.3%
Relative Strength 52 weeks = 29
Cash Flow 5-year Average = 3.35
Profit Margin = 9.64%
Operating Margin = 17.19%
Quarterly Revenue Growth = -8.4%
Quarterly Earnings Growth
Operating Cash Flow = 15.44B
Beta = 1.96
Percentage Held by Institutions = 75.5%
Short Percentage of Float = 2.3%
Long term debt to equity ratio = 3.29
Growth
Net Income ($mil) 12/2011 = 4110
Net Income ($mil) 12/2010 = 4703
Net Income ($mil) 12/2009 = 1346
Net Income Reported Quarterly ($mil) = -94
EBITDA ($mil) 12/2011 = 14425
EBITDA ($mil) 12/2010 = 14064
EBITDA ($mil) 12/2009 = 9041
Cash Flow ($/share) 12/2011 = 2.89
Cash Flow ($/share) 12/2010 = 3.89
Cash Flow ($/share) 12/2009 = 1.75
Sales ($mil) 12/2011 = 32403
Sales ($mil) 12/2010 = 31622
Sales ($mil) 12/2009 = 23358
Annual EPS before NRI 12/2007 = 2.37
Annual EPS before NRI 12/2008 = 1.54
Annual EPS before NRI 12/2009 = -0.93
Annual EPS before NRI 12/2010 = 2.44
Annual EPS before NRI 12/2011 = 1.26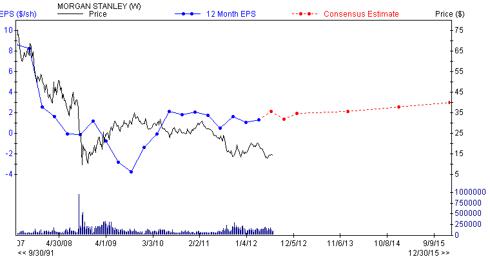 Click to enlarge
Dividend history
Dividend Yield = 1.4%
Dividend Yield 5 Year Average 03/2012 = 1.78
Dividend 5 year Growth 03/2012 = -37.24
Dividend sustainability
Payout Ratio 03/2012 = 0.41
Payout Ratio 5 Year Average 03/2012 = 0.27
Performance
Next 3-5 Year Estimate EPS Growth rate = 16.13
ROE 5 Year Average 03/2012 = 5.6
Debt/Total Cap 5 Year Average 03/2012 = 79.56
Current Ratio = 0.82
Current Ratio 5 Year Average = 0.98
Quick Ratio = 0.83
Cash Ratio = 0.7
Interest Coverage Quarterly = 1.13
Retention rate = 59%
Conclusion
Only put this strategy to use if you are bullish on the stock. In general, selling puts is one of the best ways to get into a stock you are bullish on. You either get in at a lower price, or you get paid for trying to. Investors looking for other ideas might find this article to be of interest Silver Wheaton: 3-1 Leverage For Little To No cost.
EPS and Price Vs industry charts obtained from zacks.com. A major portion of the historical/research data used in this article was obtained from zacks.com. Options tables sourced from yahoofinance.com. Earnings estimate data sourced from dailyfinance.com
Disclaimer
It is imperative that you do your due diligence and then determine if the above strategy meets with your risk tolerance levels. The Latin maxim caveat emptor applies-let the buyer beware
Disclosure: I have no positions in any stocks mentioned, and no plans to initiate any positions within the next 72 hours.