There have been numerous articles written about the incredible number of new subs Sirius XM Radio Inc. (NASDAQ:SIRI) is gaining this year due to historically high auto sales. Considering the pent-up demand for new cars, lower gas prices, and a recovering economy, this trend should continue for the rest of 2012. Which means American car manufacturers such as Ford Motor Company (NYSE:F) and General Motors Company (NYSE:GM) should also begin to prosper. According to an article in Barrons:
Analysts have pointed out that improving car sales numbers bode well for Sirius. The seasonally adjusted annual rate of U.S. car sales rose to about 14.1 million in June. If sales stay around that level, Sirius could add even more subscribers, noted Lazard Capital analyst Barton Crockett.

"If car sales stay above a 14 million SAAR and self pay churn is closer to the low end of guidance we believe sub adds could be close to 2M for the year," Crockett wrote.
Two million subs would be 25% higher than the new sub guidance of 1.6 million for 2012. And that goal is very attainable since the car sales are expected to stay above a 14 million SAAR. Many analysts believe that this year will be the best year for auto sales since 2007. According to Reuters:
Auto sales are an early sign of consumer spending and have been one of the bright spots in the economy for much of the year, although they trailed analysts' expectations in May, when the annual pace was around 13.7 million.

On average, analysts surveyed by Reuters had expected a 13.9 million annualized sales rate in June.

In the first half of 2012, some 7.27 million new cars and trucks were sold in the United States, indicating full-year sales of 14.5 million.
Car manufacturers are working around the clock to keep up with this new demand. As a matter of fact, according to an article by Spencer Osborne, many of them have shortened their traditional two week holiday in July:
For Sirius XM this means that the all important "Leading" category will actually supply many more vehicles in Q3 than is typical. With a minimal break in production, there will by extension be a minimal break in satellite radio equipped cars that are counted as subscribers in the quarter.

Ford announced that the typical two week shut-down at 6 assembly plants and 7 engine and parts plants will be trimmed to just one week, adding 40,000 units to the production numbers that typically would not exist. Consider about a 70% installation rate (actually a conservative number) at Ford and that equates to an additional 28,000 satellite radio subscriptions.
The U.S. auto industry desperately needs this. When the top two U.S. manufacturers are compared to the major market indexes, the car companies are down about 30% for the year. Ford has trended above General Motors by about 5 percent. But there are mixed reviews as to whether Ford would be a good investment right now. With the exceptional sales this year, the stock is bound to start heading upward once it bottoms out. Is this the bottom?
Not according to Jiang Zhang who points out that Ford may have some serious international problems. All of that European Gloom and Doom we keep hearing about may cause some severe problems for Ford. Because even though the cars are selling here at home, the picture is not so rosy in other parts of the world:
Heading into the earnings, investors can expect softness in Europe to continue to weigh on Ford's profit.

Late last month, Ford issued a non-US profit warning with the following highlights:

International losses could reach $570 million vs $190 million in Q1 driven by significant market deterioration in Europe where light vehicle production was down 13% yoy and 12% qoq. Going forward, Ford will likely face continued pressure due to high fixed cost
Asia will continue to register a pretax loss due to intensifying competition, margin deterioration, and continued investment in the region
South America will not perform any better due to a combination of FX controls, trade barriers and weak currencies
And now Ford must contend with yesterday's recall of the 2013 Ford Escape due to possible engine fires. So far, there have been three separate fires. Miraculously, none of them have been serious, and there have not been any injuries:
Ford Motor Company is telling owners of one version of the brand-new Ford Escape not to drive the SUVs until dealers can fix fuel lines that can crack and spill gasoline, causing engine fires.

The company issued the unusual warning on Thursday and said it is recalling 2013 Escapes equipped with 1.6-liter four-cylinder engines. Dealers will pick up the Escapes and drop off a loaner car that customers can use until the repairs are finished. The company is hoping to ship parts and get all the SUVs repaired in the next two weeks.
Click to enlarge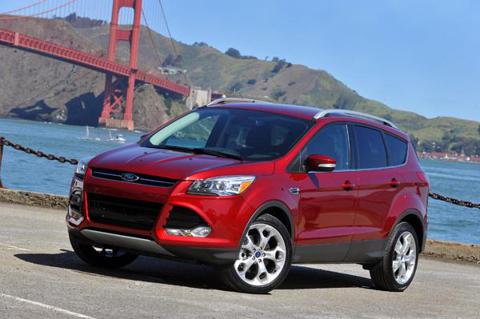 Click to enlarge
This is the second recall of the 2013 vehicle this week. The first was a carpet problem, which interferes with the ability to control the brake pedal. The new Escape is one of Ford's best-selling models.
So is this stock a good investment right now? Personally, I would wait until next week when earnings are announced. If the surge in North American sales outweighs the international problems, this could be a good entry point. However, if it is the reverse, there might be another dip in price. Even so, Sirius XM still appears to be the better investment:
It is really interesting to see how close Sirius follows the car sales. The patterns are almost identical. But the satellite radio company has still outperformed both of the automakers. And Sirius has been upgraded this week by several analysts. On Thursday, it was Zack's "Bull of the Day", and ISI Group launched coverage of the stock:
ISI Group analyst Vijay Jayant this afternoon launched coverage of Sirius XM with a Buy rating and $2.80 target price. The stock closed today at $2.11.
There are a lot of places to put your money these days. And nothing is 100 percent safe. Ford could have exceptional earnings and suddenly take off, or the international problems could temporarily sink the stock. There is a lot of chatter on the boards recommending long calls on Ford. That might be the safest bet right now. But always ask your broker before "playing with options" because they can be very tricky.
Sirius on the other hand can look forward to an excellent earnings report for Q2. Just the fact that the 622,000 net subs added are 38% over last year makes that play a pretty sure thing. The stock closed at $2.11 on Thursday, which is still undervalued in my opinion.
Disclosure: I am long SIRI.