Anyone who has read any of my articles recently knows that there has been an increase in REIT preferred issuance lately. Further, most of my recent articles have suggested that the pricing on REIT preferred stock has become somewhat tight in my opinion. It is therefore refreshing to see REITs issue "traditional" debt securities - even more so when they are retail focused, i.e. $25 par securities.
CommonWealth REIT (CWH) came to the market today with a $25 par senior debt offering. Details of the offering are:
| | |
| --- | --- |
| Issuer | CommonWealth REIT |
| Security | Senior Unsecured Debt |
| Rating | Baa2/BBB- |
| Maturity | August 1, 2042 |
| Coupon | Sub-6% (estimated by author) |
| Size | $150,000,000 (6MM shares) |
| Coupon Payments | Quarterly beginning on November 1, 2012 |
| Call Date | August 1, 2017 |
| Use of Proceeds | To redeem some or all of its outstanding 7 1/8% Series C Cumulative Redeemable Preferred Shares |
CommonWealth's debt has the following covenants:
Debt / Adjusted Total Assets ≤ 60%,
Secured Debt / Adjusted Total Assets ≤ 40%,
Debt Service Coverage ≥ 1.5x, and
Total Unencumbered Assets / Unsecured Debt ≥ 1.5x
These are "traditional" REIT debt covenants, with unconsolidated JVs excluded from total assets.
The following is a summary of their debt covenant compliance as of March 31, 2012:

Click to enlarge
The company is well within their covenants and they present no risk at the present time.
Issuer Description
CommonWealth REIT is a real estate investment trust focused on owning office and industrial properties. As of March 31, 2012, the company's wholly owned properties included 305 office properties with 40.4 million square feet and 134 industrial and other properties with 12.3 million square feet. The majority of these wholly owned properties are office and industrial buildings in central business district and suburban locations throughout the United States, and 11 of these properties with 1.8 million square feet are located in Australia. In addition, as of March 31, 2012, CommonWealth owned approximately 70.5% of the common shares of beneficial interest of Select Income REIT, or SIR, a consolidated subsidiary focused on owning and investing in net leased, single tenant properties in Hawaii. Also as of March 31, 2012, they owned approximately 21.1% of the common shares of beneficial interest of Government Properties Income Trust, or GOV, a former subsidiary that is now separately listed on the NYSE.
Back in May, I reviewed the REIT and concluded:
Bottom Line: CommonWealth REIT is one of the bigger players (by assets) within its peer group, its balance sheet and portfolio metric are sound, if uninspiring, but the REIT can't seem to make it translate into funds from operations. Funds from operations is the life blood of REITs. If it is declining when it should be turning around and increasing, there is an issue. I see no catalyst which will turn this trend around in the near-term and therefore, no reason to invest as the yield indeed seems like the cheese in the mousetrap.

Just an observation - if I were a preferred holder, I would swap into the senior debt to pick up yield and increase my position within the capital structure.
An updated view of their exchange traded capital structure is:

Click to enlarge
Equity Snapshot:
The equity has lagged peers - in this case Boston Properties (BXP), Alexandria Real Estate Equities (ARE), Digital Realty (DLR), Duke Realty (DRE) and DCT Industrial (DCT) - over the last year, but has begun to outperform on a year-to-date basis.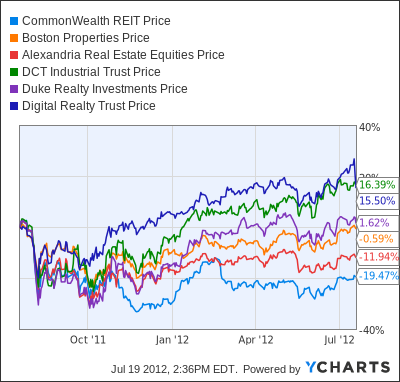 Year-to-date: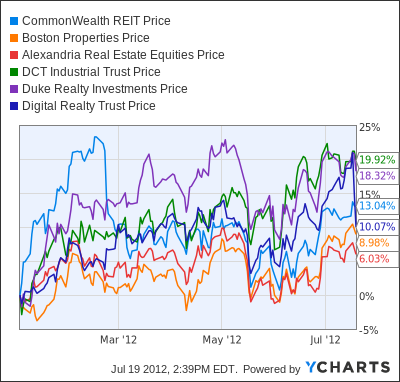 Bottom Line: I am still not enamored with this REIT or its management. The new debt will most likely be issued sub-6% and, quite frankly, I don't see value in it. The other day I wrote an article on Federal Realty Trust (FRT) and their ten year issue that came at 3%, which I believe has value for fixed income investors (more on the institutional side). While CWH is bringing 30 year debt at nearly twice the yield, I just can't recommend the issue. Should you want exposure to this name, I recommend the existing $25 par debt with greater than an 8% yield, trading at a discount. Yes, it has a shorter call date, but let it get called and your total return is that much better. If not, you are sitting in the seven year part of the curve, which is attractive and has a roll down to the five year and a much more attractive yield.
Disclosure: I have no positions in any stocks mentioned, and no plans to initiate any positions within the next 72 hours.
Additional disclosure: This article is for informational purposes only, it is not a recommendation to buy or sell any security and is strictly the opinion of Rubicon Associates LLC. Every investor is strongly encouraged to do their own research prior to investing.