Most sectors of the economy and most broad-based measures of the U.S. stock market still remain below their 200-day trendlines. (Energy and Materials are the exceptions to the rule.) Yet several strategic alternatives, or "Concept ETFs," have recently moved into a favorable technical light.
Consider the PowerShares Value Line Industry Rotation Fund (NYSEARCA:PYH). It was impressive enough to garner 14% in 2007. In 2008 (through 4/18), its -4.4% remains relatively manageable. Better yet, its price recently climbed above its long-term trend. (That's something the S&P 500 SPDR Trust (NYSEARCA:SPY) is still 4%-5% away from reaching.)
Of course, PYH is not the first fund to put forward an ETF that specializes in moving into and out of the "hot" sectors. The Claymore/Zachs Sector Rotation Fund (NYSE:XRO) has traveled this path as well, with extremely similar results. Yet the important item to note is the relative success of "Concept ETFs" when compared with the overall market.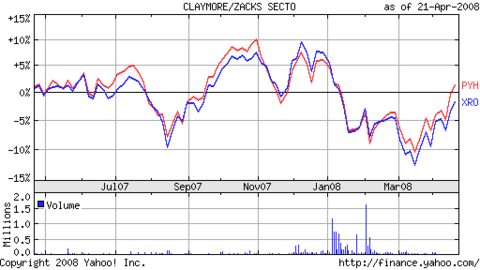 In a post last November, I noted that many strategic/conceptual ETFs were outperforming the broader markets. Granted, asset class ETFs (currency, commodity, bond, stock) must remain core holdings for a diversified portfolio. Nevertheless, there's ample reason to consider: (a) sector rotation, (b) covered calls, (c) "currency harvesting" and even (d) "technical leadership."
The latter concept has its own exchange-traded vehicle, the PowerShares DWA Technical Leaders Fund (NASDAQ:PDP). Through 4/18/2008, it was down a mere 3%. Better yet, PDP is also in a "technical uptrend."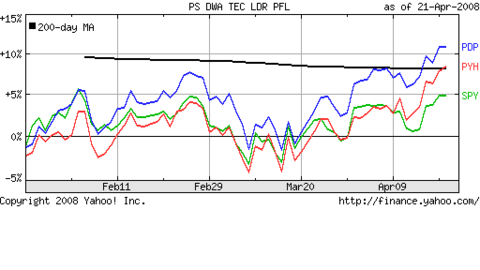 The PowerShares DWA Technical Leaders Fund tracks an index that pulls 100 U.S.-listed companies from a pool of 3000. The 100 pulled are purported to have powerful relative strength in a particular sector or sub-sector. The index is reconstructed quarterly.
Disclosure Statement: ETF Expert is a web log ("blog") that makes the world of ETFs easier to understand. Pacific Park Financial, Inc., a Registered Investment Advisor with the SEC, may hold positions in the ETFs, mutual funds and/or index funds mentioned above. Investors who are interested in money management services may visit the Pacific Park Financial, Inc. web site.