Although Stanley Black & Decker (SWK) cut its full year earnings forecast , the company raised its dividend by 20% to 49 cents per quarter or $1.96 per year.
Why would the company raise its dividend - especially after announcing disappointing results? According to the company's CEO, John F. Lundgren:
Returning cash to our shareholders continues to be a significant component of our capital allocation strategy. The 20% dividend increase and share repurchase program we announced today reflects our sensitivity to shareholder value creation and confidence in the cash generation potential of the company for both the near term and the future.
Another reason? It's the company's 45th consecutive annual increase. True, they could have issued a token increase and still kept that streak going, but raises like these show that there are some companies that view dividend increases as something shareholders appreciate, not just an "extra bonus"
In any event, shares rallied since the earnings announcement - and closed on Thursday above $65 for the first time since June 1.
Given the new dividend, here's a look at dividend yield levels for the stock.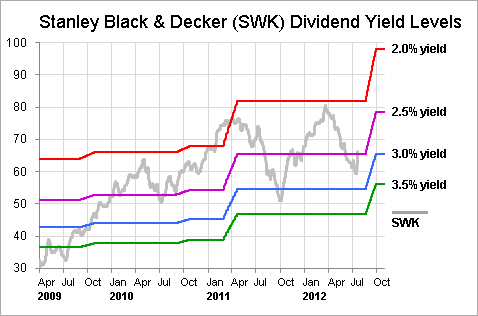 The stock closed on Thursday to yield about 2.5% at its current dividend payout, but that would be right around the 3% yield level for the new dividend payment which will take effect in September. As you can see, the stock has not given you many opportunities to buy at a yield of 3% or more.
And the company's payout ratio appears to be acceptable.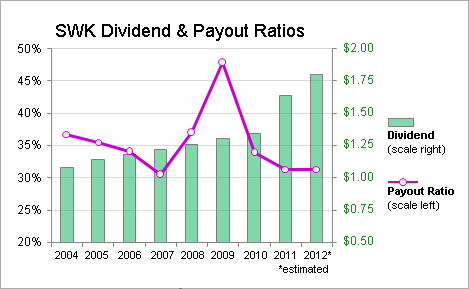 What's not so acceptable, at least in my opinion, is the company's main message on its home page: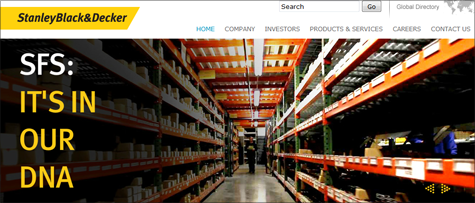 SFS? What the heck does that stand for? Super Fine Solutions? Stuff For Success? Stanley Favors Shareholders? Just what is this SFS that's in the company's DNA?
As it turns out, SFS stands for "Stanley Fulfillment System." That's the company's "competitive advantage and the core of our culture of continual improvement, and a relentless force for operational excellence and profitable growth."
Whatever works, I guess, but it sounds like a lot of corporate buzz-speak to me.
A confusing home page message shouldn't prevent you from investing in SWK if you like the fundamentals and the $1.96 per year in dividends.
But when I see corporate messaging that seems to miss the mark, I have to point it out. It's in my DNA.
Disclosure: I have no positions in any stocks mentioned, and no plans to initiate any positions within the next 72 hours.