Is Pacific Capital Bancorp (NASDAQ:PCBC) immune to the housing crisis? That is the question I have been asking myself after spending a lot of time digging through PCBC's SEC filings, their FDIC filings and re-listening to their latest conference call.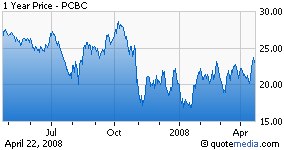 It appears that from everything coming from the company that management thinks that they are immune. In fact management seems to be completely ignoring the huge spike in delinquencies. While non performing loans jumped from $17.3 million on 12/06 to $73.3 million on 12/07, the company's allowance for loan losses as a percentage of nonperforming loans fell from 374% to a mere 61%. The big spike in delinquencies is primarily attributable to several big loans that went delinquent at the end of 2007.
During the Q4 conference call PCBC's CEO, George Leis explains his rationale for the shrinking loan loss allowance coverage:
One relationship was an $11.6 million loan to a company that is in the auto parts industry. However, the borrowers receiving interest from potential acquirers for the company and we expect a satisfactory resolution to this problem credit within six months. The second relationship consists of $33 million in credit facilities with a residential home builder. This borrower has been a customer for almost 30 years and we have historically had excellent credit experience with the company.
The projects were in Reno, Nevada and the Central Valley of California, two very ugly housing markets. George goes on to say that:
We have current appraisals on most of the properties, and have applied significant discounts to the existing appraisals on the other properties for the purpose of determining our potential loss exposure. Based on this current analysis, we believe our exposure is relatively modest. We expect the remaining principal to be paid off over the next 18 to 24 months as houses and lots are sold.
Given that this conference call occurred on January 31, 2008, and that the appraisals were probably done several weeks before, it is certain that the value of those properties has further eroded with the continued slide of the housing market.
This week brought news from both Bank of America (NYSE:BAC) and AmericanWest Bancorp (AWBC) of charges for increasing allowance to cover bad loans to home-builders. Was Pacific Capital Bancorp that much better at underwriting the loans, or is it just a matter of time until they are forced to admit to more exposure and/or more delinquent construction loans?
There is also the issue of the risk in the company's huge portfolio of residential loans. I realize that PCBC was writing prime loans, and that their loan portfolio has a low LTV, but the magnitude of the sell-off in the housing market has been so severe that in my opinion every lender is going to take some lumps. So far their loans have performed remarkably well, but the value of the collateral backing those loans has depreciated substantially. Currently the company allowances for losses on the residential loans held for investment of $3.18 million on a portfolio of $1.076 billion, a tiny 0.3%.
Next Tuesday, when management reports 1st quarter 2008 numbers, I am expecting to see a further increase in delinquencies. I am also expecting management to finally have to start to substantially increase their loan loss allowances. If I am correct, the stock will be under serious pressure, but if they try to postpone the (in my opinion inevitable), the consequences would be much more dire in the long term.
Disclosure: Author has a short position in PCBC