At Israel Opportunity Investor [IOI] we are not in the business of making fun of analysts who actually take a stand before an earnings report and tell investors what they think, even if they are wrong. In fact we applaud the move. It's not very helpful to upgrade or downgrade a stock after earnings when the stock has already moved one way or another.
Was it helpful to know that Google (NASDAQ:GOOG) was upgraded last Friday morning after the company blew past earnings and was up $70 in pre-market trading? Investors want information that they can use, before a significant event happens to a company.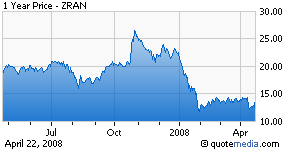 On Monday night the Israeli hi-tech company Zoran (NASDAQ:ZRAN), which makes chips for DVD players and multimedia systems, came out with numbers, and provided a much rosier outlook than analysts had predicted. Ten days ago a Jefferies and Co. analyst downgraded Zoran stock down to 'underperform,' and slashed his numbers for the rest of the year as well.
Zoran predicted revenue of between $130 million and $135 million in the second quarter, ahead of the $127.1 million that was the consensus. The company also said that it expects that margins for DTV and mobile phones will improve for the rest of the year.
IOI recently laid out the case for Zoran. Our subscribers would have known what the catalysts are going forward. With that being said, I still want to commend the Jefferies analyst for taking a position. He may have been wrong, we all are from time to time I am told, but at least he was pro-active.
Disclosure: The author's fund has a position in ZRAN, but fund has no position in any other stock mentioned as of April 22, 2008.