Omeros Corp. (OMER) is a biopharmaceutical company that develops a drugs for a wide variety of medical applications. It has a market cap of only $196.22 million. Yet it has a Beta of 0.73. In this volatile market that should tell you that there is a lot of substance to the drug pipeline of Omeros. For instance, Orexigen Therapeutics (OREX) and Vivus (VVUS), which have potential blockbuster weight loss drugs, have much higher Betas at 2.96 and 1.42 respectively. The low Beta doesn't ensure that Omeros schizophrenia drug will be successful. However, it does tell you that the stock is probably not over priced. It tells you that the many other drugs that Omeros has in its pipeline are deemed good prospects by many. If you further know that one of Omeros' directors, Peter Demopulos, recently bought another 14,635 shares, it gives you more faith in the stock. Dr. Demopulos now owns a total of 165,722 shares directly and 164,382 shares indirectly through a family trust. That shows a strong belief in the company's prospects.
Omeros on July 2, 2012 completed a public stock offering 3,365,854 shares plus an over allotment sale of 439,024 shares at $10.25. Most of the monies from this sale are intended to be used for further development on two phase III clinical studies, one for each of two Omeros drug candidates -- OMS302 and OMS103HP. These are both drugs that help in surgical procedures. I don't see either as a blockbuster, but each should supply good income for the company if successful. A recent chart of the product pipeline is below.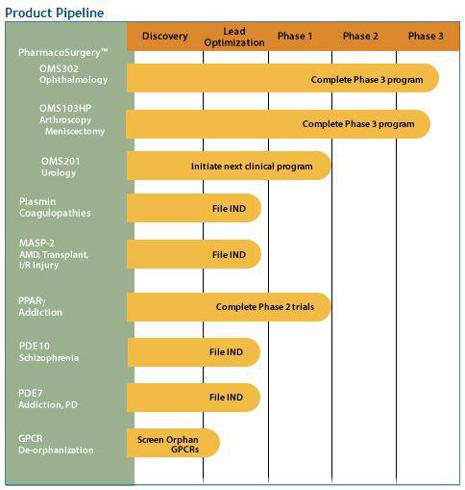 As you can see the pipeline is very full for a small company. You can also see that Omeros is close to filing four Investigational New Drug Applications. One of these is for the schizophrenia drug OMS824. This selectively inhibits PDE10 (phosphodiesterase10), which is an enzyme linked to diseases that affect cognition, including schizophrenia and Huntington's disease. In the US alone there are 100,000 to 200,000 people newly diagnosed with schizophrenia every year. Fifty percent of hospitalized psychiatric patients have schizophrenia. No doubt some percentage of these are misdiagnosed. However, statistics say that the risk of schizophrenia in the general population is 1%. There are over 2.1 million current cases in the US alone. That's a blockbuster drug amount, and it is not for something as relatively innocuous as obesity.
Omeros recently completed its preclinical studies for OMS824 with good results, and it intends to submit an Investigational New Drug Application (IND) for OMS824 to the FDA during the current quarter (Q3 2012). The stock recently spiked upward on the relatively good news about the stock offering to get the funds to complete the Phase III trials of the two PharmacoSurgery drug candidates OMS302 and OMS103HP. When the pricing was set lower than expected, the stock fell. Then after the offering completed, the stock has fallen further. With all of the great drug candidates in the Omeros pipeline, the recent fall seems likely to stop soon. However, such falls often overshoot. That means if you are adroit, you may be able to pick up Omeros at a significant discount to the price the market might give it without its current downward momentum. You might want to then hold onto it longer term. Omeros seems to have great prospects on its own and as a possible buyout target. Alternatively you could keep Omeros to wait for the announcement of the IND for the schizophrenia drug OMS824. Often there is a spike upward when the IND of a potential blockbuster drug is filed, and you know the IND is supposed to be filed this quarter. You could possibly make a large, quick profit by selling your Omeros stock, when it spikes upward at the time of the IND filing.
The two year chart of OMER gives some technical direction for this trade.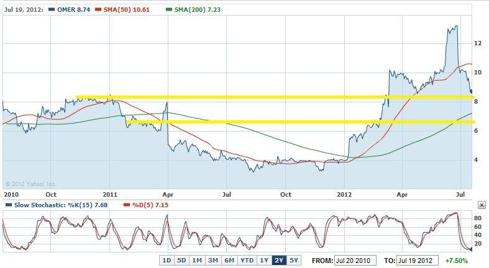 The slow stochastic sub chart shows that Omeros is oversold. The main chart shows that the price line of OMER is still heading rapidly downward. There is good support at approximately $8.00 to $8.30 where the first yellow line is. OMER could well bounce upward there. There is further support at approximately the $6.50 area where the second yellow line is. You may want to watch the stock on Friday July 20, 2012 to see if the price line goes through the first support area. If it does, you may wish to wait to buy the stock. If the stock appears to find support, you may wish to buy the stock on Friday; or you may wish to start averaging in. If you are willing to stay with this trade for the long term, you will probably not go far wrong. However, if you want to trade the likely spike on the IND filing for OMS824 (the schizophrenia drug candidate), you will want to be more careful. You will want to try hard to catch OMER at or near its near term nadir. I will point out that the average analysts' next 5 years EPS growth per annum estimate is 85.00%. This will not come this year or even next year. However, it may well start to appear by the year after that. The two Phase III trials mentioned above will be completed by then. The potential schizophrenia blockbuster drug is likely many years away from commercialization. Still it is a reason to buy the stock. The company says it is on track to report Phase I Clinical Trail data on OMS824 later this year (2012). Plus there are the other three IND's that will need to be filed soon.
NOTE: Some of the fundamental financial data for OMER is from Yahoo Finance.
Good Luck Trading.
Disclosure: I have no positions in any stocks mentioned, but may initiate a long position in OMER over the next 72 hours.