One of the best feelings when you are you are a long/short money manager is waking up to find your shorts are getting cratered and your longs are doing well after reporting earnings. That is exactly where I find myself on this Friday as my short positions in Chipotle Mexican Grill (NYSE:CMG) and Intuitive Surgical (NASDAQ:ISRG) are going to pay off in a big way today. On the other side of the ledger, two of my largest core long positions, Microsoft (NASDAQ:MSFT) and Baker Hughes (NYSE:BHI), should do well today after their earnings reports. The different reactions to earnings reports is the core reason my portfolio is tilted toward value stocks with low expectations, along with some short positions on high-beta stocks with valuations based on perfection.
It looks as if the market is set to have a down day, so I will probably take my profits on Chipotle and redeploy them into increasing my allocation to the energy sector. It appears oil has bottomed (see chart below) and natural gas prices have had nice move up recently as well. Although energy stocks have bounced back over the last month, they are still down some 15% from their highs earlier in the year. Since I am feeling somewhat in a "risk on" mode today, I am going to take hard look at the following beaten-down speculative play from the oil patch and probably pick up some shares in today's down market.
According to the business description from Yahoo Finance, "Callon Petroleum Company (NYSE:CPE) engages in the acquisition, exploration, development, and production of crude oil and natural gas properties. The company's properties are located in the Permian Basin in west Texas, the Haynesville Shale in northern Louisiana, and the Gulf of Mexico."
Here are seven reasons why CPE is solid speculative play at just over $4 a share:
The stock is selling at just over six times forward earnings, a steep discount to its five-year average (15.2).
The six analysts who cover the stock have a median price target of $8 a share on CPE, almost double its current price. Price targets range from $7 to $14.50 a share.
The stock is cheap at just 86% of book value and less than three times operating cash flow.
CPE is selling near the bottom of its five-year valuation range based on P/E, P/S, P/B, and P/CF.
Analysts expect the company to have a 50% revenue increase in FY 2013 and consensus earnings estimates for FY 2012 and FY 2013 appear to have quit falling in the last week or so.
Although the company disappointed in its last earnings report due to a production shortfall, it had beaten estimates in each of the previous four quarterly earnings reports. Given estimates for only a breakeven quarter, I would not be surprised if the company beats estimates when it reports again in early August.
It appears as if the stock is going through a bottoming process and could break out on any good news. CPE was near $8 a share earlier in the year (see chart below).
Click to enlarge image.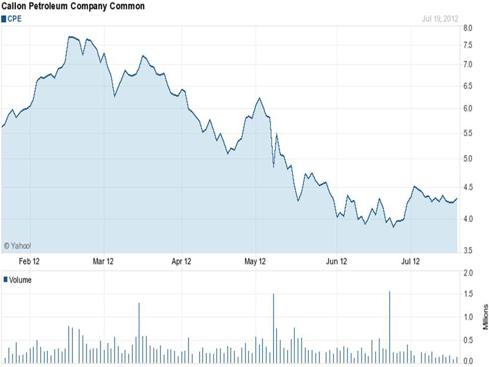 Disclosure: I am long BHI, MSFT. I am short CMG and ISRG. I may initiate long position in CPE in the next 72 hours.