A few months ago I recommended Idexx (NASDAQ:IDXX), a maker of diagnostic tools for veterinarians. It is now several months later, and my stock pick is down 23%. Perhaps it is time to reexamine my thesis.
Reasons for decline
Since my first writing on December 14th, the US rapidly slipped into recession and financial crisis. Blaming the weak economy, Idexx's peer VCA Antech (NASDAQ:WOOF) delivered disappointing 4th quarter income and lowered guidance on February 5th. Since February, both stocks have plunged amid recession fears.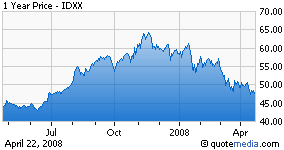 I believe the market unfairly punished IDXX for WOOF's fumble. While a recessionary environment may hurt VCA Antech as pet owners are less quick to dish out cash for their companions' medical needs, I think Idexx's unique business model makes it less susceptible to a stubborn economy.
Unlike VCA Antech, which relies heavily on animal treatment at the retail level, Idexx is a supplier of equipment for veterinarians. This means that Idexx sales have a buffer from the retail consumer, relying more on the vets' and animal hospitals' discretionary spending.
Fundamentals still strong
2008 is a big year for Idexx as it rolls out two pivotal new products: Catalyst Dx and SNAPshot Dx. Both of these analyzers will greatly expand the ability of veterinarians to perform sample tests in-house, rather than sending them to an off-site lab overnight. Bringing more capabilities to the point of care is an advantage most vets would want to stay competitive.
Sales for Catalyst Dx and SNAPshot Dx already look promising. On the Q4 2007 conference call, management announced 5,900 placements of VetLab Station, well above the 5,500 target. As VetLab is a critical prerequisite to both Catalyst and SNAPshot, the market may be telegraphing a positive sign. I think the fourth quarter of 2008 can be a monster one as the Fed's interest rates kick in and because most capital expenditures occur near the end of the year.
Another promising sign for Idexx as a long term investment is a recent Bear Stearns report, which hinted at a strong pipeline of new products in the works for beyond 2009.
Valuation
One of my favorite points in favor of Idexx is its strong Free Cash Flow. Last year it generated $1.15 per share in Free Cash Flow to Equity. To value this strong cash flow, I built a Discounted Cash Flow model for Idexx. Despite trying to be conservative in my estimates for future years, my model indicated that this stock may be more appropriately valued near $70 per share!
A price of $70 would put its forward earnings multiple at 37. Other diagnostics companies such as VCA Antech have multiples in the upper teens or low 20s. I think Idexx could be well deserving of the 30 multiple seen by competitor Abaxis (NASDAQ:ABAX). That would place Idexx easily at $55 per share, 17% higher than its current price. Whatever the case, this stock is on sale below $50!
Management must agree that Idexx stock is a bargain at these prices. In Febrary, they expanded the current share buyback program from 2.85 million shares to 6.85 million. Looking at financial statements from previous years, this company has been wiping its own shares right off the open market.
Quarterly opportunity?
Idexx reports Q1 2008 earnings this Friday. There is a good chance we will see some action in this stock depending on what the company has to say. I think it is a good value below $50.
IDXX DCF Model (Excel Spreadsheet)
Full Disclosure: At the time of this writing, Winston is long shares of IDXX and calls of WOOF.