Normally I try not to waste too much of my time analyzing earnings previews as I prefer actual results, and rarely do I ever trade a based on such analysis. Today, I'm going to make an exception and at least analyze an earnings preview.
Over the last year, Exactech (NASDAQ:EXAC), a small medical device manufacturer, has made huge strides not only in increases in the share price, but also as a company. The share price jumped from the mid-teens last September to the mid-twenties as the company made equally impressive gains in revenue and profits.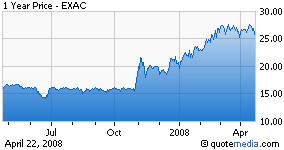 The market has applauded the company's success with a lofty valuation. Exactech currently sports a price of 35 times trailing earnings and 21 times forward earnings, suggesting that the market expects large earnings gains through 2008. A big question for Exactech's shareholders is whether the Florida-based firm will be able to maintain or increase its already high multiples going forward.
On April 10, Exactech raised first quarter earnings guidance to 22 – 24 cents from 18 – 20 cents per share on revenues of $40 million, up from $36 – 38 million. The share price responded in after-hours trading and rose to over $29, but has since settled down in the $25 dollar range.
In the upcoming earnings report there will be several things I will be looking for:
How international operations are shaping up: Exactech expects that 22 percent of revenue will come from international sales in 2008. As the dollar continues its slide and global markets expand, foreign sales may become the key driver in Exactech's future success. The company is making strides in this area as it is beefing up management for international sales and opening up new distributers, but it will be interesting to hear management's take on how the situation is unfolding.
What is the deal with all the acquisitions? Exactech recently acquired Altiva Corporation, a small spinal implant manufacturer for $25 million, as well as a small French distributor, France Medica SAS, for $11.1 million. I am excited to hear whether management is successfully incorporating these companies' assets.
Also, and more importantly, Exactech filed a $100 million security shelf with the SEC where the company will offer common and preferred stock. Considering that Exactech's balance sheet improved last quarter as well as over the last three years, it is likely that the company is gearing up for a big acquisition. Hopefully CEO David Petty will shed some light on the topic.
Inventory: Whenever I'm looking at a manufacturing company, I always keep my eyes on inventory to make sure that things aren't spiraling out of control.
Free Cash Flow: Over the past year, Exactech made huge percentage gains in free cash flow (operating cash flow minus capital expenditures). Also, for 2007, net income was just 63 percent of free cash flow (the lower the better). For this upcoming quarter, similar performance would be very encouraging.

Overall, Exactech has performed very well; we will see in the upcoming report whether or not they can keep the momentum going.
Disclosure: Author is long Exactech