On Tuesday Goldman Sachs (GS) announced second quarter results with a 9% drop in revenues to $6.6 billion and a 12% drop in earnings to $927 million. Despite beating analyst expectations the results, at face value, don't appear to compare well to the results of investment banking divisions of Citi (C) and JP Morgan (JPM). However, if we look closely we can see that most of the businesses actually did rather well.
The client brokerage did relatively well with an 11% increase in revenues as higher net revenues in mortgages and commodities compared favorably with difficult market-making conditions during the second quarter of 2011. Similarly the investment management business reported 5% growth in revenues to $1.33 billion as the firm pushed through higher management fees despite relatively static asset under management.
On the negative side, net revenues from the Investing & Lending division were $203 million for the second quarter of 2012, down from $1,044 million, as proprietary trading positions of Goldman were hit by the decrease in global equity prices and generally wider credit spreads. In particular the company reported a loss of $194 million from its investment in Industrial and Commercial Bank of China Limited. Whilst some may question why Goldman didn't manage these positions better, i.e. shut them down quicker, investors should recognize its Goldman's character to take bets where others might not and they have an almost unique ability to make significantly larger profits on their winners compared to small and occasional losses on the losers.
Perhaps the Investment Bank is the best barometer of the depressed current economic climate. Net revenues were 17% down on 2011 at $1.20 billion, reflecting a decline in industry-wide completed mergers and acquisitions. Even though Goldman claim the pipeline of deals is increasing, when economic conditions are as uncertain as they currently are, these M&A deals tend to get stuck in the pipeline for quarter after quarter and then year after year. However, making up a manageable portion of overall revenues (around 20%) the firm should be able to continue to support this business until the macro environment improves.
Goldman has taken the right steps to reduce headcount and bonuses in order to protect their bottom line. The accrual for compensation and benefits expenses was down 9% at $2.92 billion. Additionally the company has signaled that there is scope for further cuts. A fact that will not be missed by investors as savings will feed straight through to pre-tax earnings.
Given the positive performances of the core brokerage and investment management businesses Goldman is well placed to benefit from a recovery. Revenues in the Investment and Lending division could bounce back strongly. Additionally, even with current concerns in Europe, volatility has been fairly low in the first half of 2012 which is bad for market makers such as Goldman. The level of volatility is not going to remain low forever and profits could benefit from a significant boost when it returns.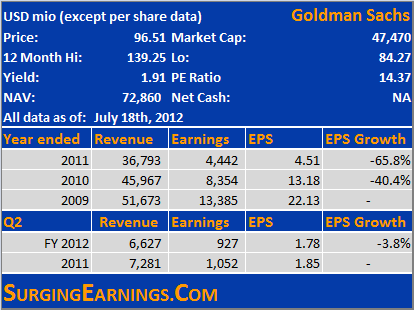 With net income of $3 billion in the first half of 2012, Goldman would report earnings of $6 billion for the full year if it repeats the performance and possibly significantly more if the Investment and Lending business bounces back or if market volatility increases. With a market cap of $47.5 billion, or eight times annualised earnings, it looks like good value.
Risk Disclaimer: This article does not constitute a recommendation to buy or sell. Investing in stocks or other securities and derivatives is a high risk activity and not suitable for everyone. It is strongly recommended that individuals should consult with a SEC registered investment advisor prior to making any investment decisions.
Disclosure: The author is long JPM. The author has no positions in GS or C and has no intention of initiating any in the next 72 hours.
Disclosure: I am long JPM.