Microsoft (NASDAQ:MSFT) reports earnings on Thursday and here is why it is a buy. First, as mentioned in my post a few weeks back, Microsoft lost more in market cap than was justified by the Yahoo! (NASDAQ:YHOO) offer.
The stock has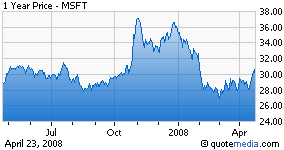 since, recovered more than 10%. IBM (NYSE:IBM), Intel (NASDAQ:INTC) and Hewlett-Packard (NYSE:HPQ), all reported good quarters, indicating strong PC growth. This bodes very well for Microsoft and should lead to a record quarter following the two previous successive blow-out quarters when they grew earnings 100% and 40%. If you don't already own it, consider buying it here.
Apple (NASDAQ:AAPL) reports earnings today and again, the same IBM, Intel and Hewlett-Packard theme applies. With Apple, there are some moving parts to consider.
First, Mac sales could come in a lot higer and every percentage gain over Dell or Hewlett-Packard means big numbers for Apple. Additionally, the iPhone seems to be doing well despite some negative news earlier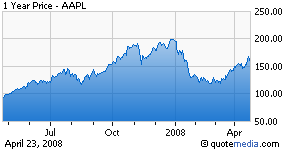 this year about revenue from "lost" subscribers who got their iPhones unlocked and are using it with non-authorized wireless providers. Any news regarding the release of a newer version of iPhone (maybe a 3G) could do wonders for the future of the iPhone.
Already, the device has a quarter of the US smartphone market cornered and while European sales might not be going as well as expected, I do think that the future is bright for iPhones.