Here are my present thoughts on natural gas (The United States Natural Gas ETF, LP: UNG).
As we get further data from EIA, such as today's weekly update, the initial thesis that natural gas would manage to get within the normal storage range for 2012 continues to be true. The chart below shows clearly how, little by little, this is becoming reality.
Click to enlarge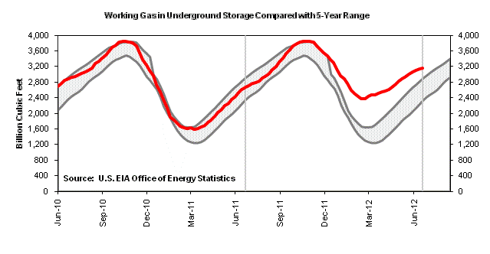 Click to enlarge
Initially, this movement was helped tremendously by the dispatch switching from coal (Market Vectors Coal ETF: KOL) to natural gas. This happened because in many instances natural gas became the cheaper fuel to burn, and so natural gas-fired generators jumped ahead of some coal-fired power plants in the dispatch order. Lately, the movement was also helped by a scorcher summer even when compared to 2011, which was no slouch either. The heat came earlier, and was, in many parts, stronger. The heat is also still expected to continue being above normal going forward, as shown below—though perhaps not to the extent it has been lately (source: Accuweather).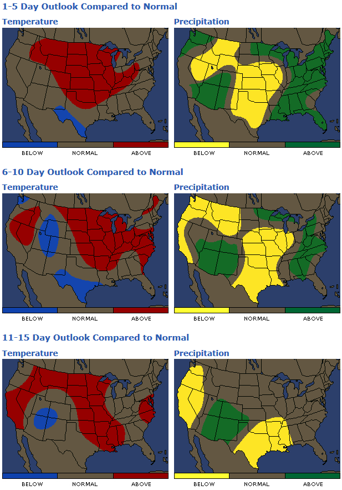 Click to enlarge
So what we have seen is that from an environment where fears that natural gas storage would completely fill up, we've slowly trended towards an environment where it's likely that no such fears are warranted. Naturally, as we had expected, natural gas rallied quite a bit from its 2012 lows back in the $1.90 area, to around $2.95-$3.00 today.
However, I had also expected that due to the rapid decline in natural gas rigs, the larger focus of the remaining rigs in wet plays, and the rapid production decline profile of shale gas wells, we'd probably see a further rally into 2013. This rally would not be possible at least into late 2012 because of the excess inventories and the reliance on dispatch switching—which will go away as soon as natural gas goes well above $3.00. Although that should happen during 2013 because as production goes lower, natural gas no longer needs to replace coal in power production to eat up all the supply.
This part of the thesis, however, is somewhat in danger. It's in danger because production has remained stubbornly high, and has not yet shown the expected declines. This can be gleamed from the weekly updates by EIA, and they're still not painting a consistent production decline going forward. The culprit seems to be the Marcellus shale formation, where some backlog of wells now coming online seems to be providing some lift to production (source: EIA).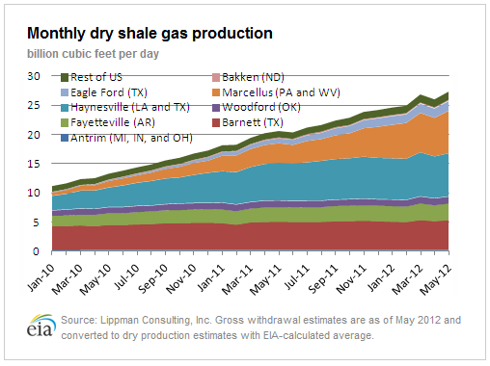 Click to enlarge
Conclusion
This is something to keep an eye on. The thesis for a larger natural gas rally from late 2012 and going into 2013 rests on production going lower. Without that effect, it would be likely that natural gas would be stuck below $3.50 or so for longer than expected.
Without natural gas going higher, coal stocks such as Arch Coal Inc (ACI), James River Coal Company (JRCC) or Alpha Natural Resources, Inc. (ANR) would also have a longer-term problem since coal prices don't have much upside without higher natural gas prices, and the present prices are uneconomic for those companies.
My own opinion remains that we'll see production drops as soon as the depletion takes over the possible backlogs still existing. But still, I can't help but transmit that the risk to this prediction is now higher than it was some time ago, when production drops were actually happening already.
Disclosure: I am long ACI, ANR.