Arrow Electronics (NYSE:ARW) shares are down sharply today after the company this morning reported weaker-than-expected Q1 results and a downbeat outlook for Q2.
The electronics distributor reported Q1 revenue of $4.03 billion and non-GAAP EPS of 79 cents; the Street had expected $4.08 billion and 82 cents.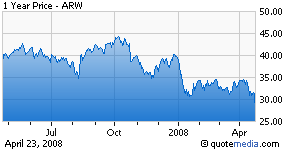 "The first quarter was a challenging one for us and did not meet all of our expectations," Arrow CEO William Mitchell said in a statement. "We saw increasingly challenging market conditions in the last few weeks of the quarter, primarily in our enterprise computing solutions business. This created headwinds for our operating performance and resulted in lower than expected earnings per share."
For Q2, the company sees revenue of $3.85 billion to $4.15 billion, with non-GAAP EPS of 74-80 cents a share; that is below the Street consensus of $4.28 billion and 88 cents. The company said it expects its server business to continue to be under pressure worldwide, and it said the European components market "may continue to soften in the second quarter."
Arrow today is down $4.56, or 14.6%, to $26.75.