I did a double take when I saw Chipotle Mexican Grill's (NYSE:CMG) stock performance today.
(click image to enlarge)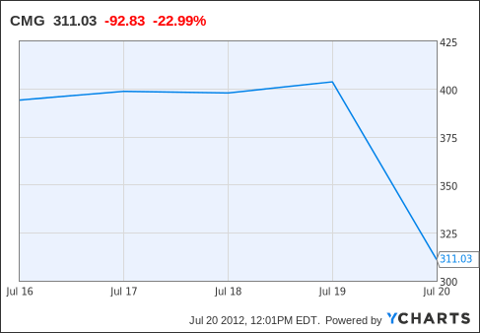 Click to enlarge
With a staggering >20% drop, one would assume that Chipotle's earnings report was absolutely terrible, right?
Not so. From Wall Street Cheat Sheet:
Net income for Chipotle Mexican Grill Inc. rose to $81.7 million ($2.56 per share) vs. $50.7 million ($1.59 per share) in the same quarter a year earlier. This marks a rise of 61.2% from the year-earlier quarter.

Revenue: Rose 20.9% to $690.9 million from the year-earlier quarter.

Actual vs. Wall St. Expectations: Chipotle Mexican Grill Inc. beat the mean analyst estimate of $2.30 per share. It fell short of the average revenue estimate of $707.1 million.
Beat earnings consensus by 11%, reported 61.2% year-on-year earnings growth, and missed revenue estimates by a measly 2.4%. All in all, sounds like a pretty good quarter to me. So why'd the stock go into freefall?
One potential reason is analyst downgrades. But stocks get upgraded and downgraded by analysts all the time, and you don't often see stocks do what Chipotle just did.
In 3 Big-Name Stocks I Think William Danoff is Wrong About, I examined some of Chipotle's metrics and questioned why Will Danoff's Contrafund was still holding the stock, which had at the time had appreciated by 675% since the financial crisis lows. The P/E took off post-financial-crisis, and the stock was trading at a P/E of over 50 before earnings. As of this writing, it's trading with a P/E of 37.8, according to Google Finance. This P/E is more reasonable considering its long-term EPS growth is projected at around 22%.
Chipotle's drop is one of the reasons I prefer investing in stocks with low-to-average P/E ratios. When stocks are priced at a very high multiple of earnings or future earnings growth, they're walking a tightrope with investors. One wrong move -- like missing revenue by a mere 2% - and they have a long way to fall.
I love Chipotle burritos -- I'm a frequent customer. Nonetheless, even as the stock kept going up and up and up, I didn't buy in as an investor. The business model is great, earnings and cash flow growth are very strong, the company has great customer loyalty, but there was just one problem: the price wasn't right.
While Chipotle's stock price may well bounce back from the sharp sell-off, investors would do well to take the following investing mantra to heart:
It's almost always about the price. - Donald Yacktman
Disclosure: I have no positions in any stocks mentioned, and no plans to initiate any positions within the next 72 hours.