Intel (INTC) hit the share price target of $28 I set last year. I sold half my position when it hit $28. Since that high, fear of a European and Chinese slowdown in PC sales cratered the stock. I bought back my shares on the downswing. Shares are up over 3% as the market viewed Intel's earnings beat and weak revenue outlook as a case of the glass being half-full rather than half-empty.
I'm taking a long-term approach to Intel. This isn't a one quarter company.
Forget the earnings beat. Forget the weak guidance. Hell, forget Europe. This stock is worth owning. I am raising my price target again, this time to $31 in 2013.
Here are the three reasons I want more Intel in my portfolio.
1. Dividends
Intel has been paying 21 cents a share for the last 4 quarters, and announced in May that it will raise its third quarter dividend to 22.5 cents. The company is on a march to 25 cents a share by 2013. Great support for the stock and the bank account.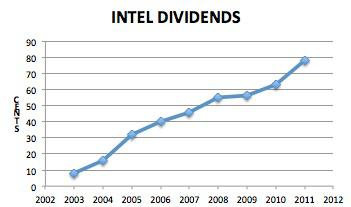 2. The Unheralded Story About Share Repurchase.
Everyone talks about Intel's steadily increasing dividend. Don't forget their commitment to repurchasing stock. They've actually returned more money to shareholders in buybacks than dividends over the last decade. Intel has used buybacks to reduce its share count by a quarter since 2000. That has helped Intel boost its earnings per share.
This quarter, Intel bought $1.1 billion dollars of stock. $7.5 billion remains in their buyback program. I love watching the share count go down, don't you?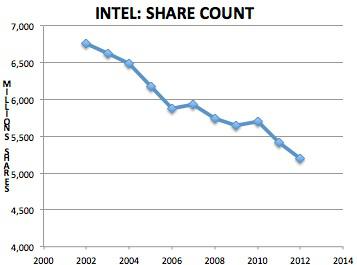 3. Data Is A Mighty Contributor To The Bottom Line.
In its conference call, Intel reiterated data's long-term 15% growth rate.
DCG grew 15% over the second quarter last year with cloud volume growing at more than twice the rate of the rest of the server market segment.
This quarter, data produced $1.4 billion in operating segment income. Data's contribution to Intel's bottom line is growing more quickly than its bread-and-butter PC division. Data is a much more profitable business than its PC client group (operating segment margins for data 50% vs PC 27%). If you liked the 63% gross margins, imagine an Intel with a bigger Data Client Group.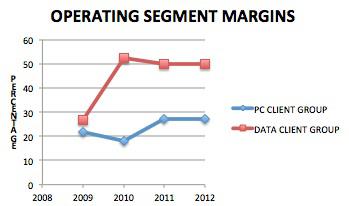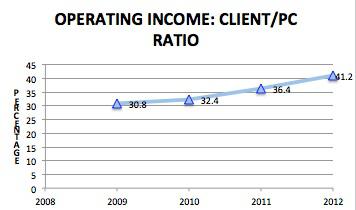 (Graphs are for Q2 quarters.)
This is a shareholder-friendly company with a strong business model.
Disclosure: I am long INTC.
Additional disclosure: Disclaimer: The opinions in this document are for informational and educational purposes only and should not be construed as a recommendation to buy or sell the stocks mentioned. Past performance of the companies discussed may not continue and the companies may not achieve the earnings growth as predicted. The information in this document is believed to be accurate, but under no circumstances should a person act upon the information contained within. We do not recommend that anyone act upon any investment information without first consulting an investment advisor as to the suitability of such investments for his specific situation.