A month after Bill Gross opened the Pimco Total Return ETF (BOND) this past Spring, I was looking to safely store some cash from my Apple (AAPL) option success. My investment in his new ETF is up over 4.5% since April for a better than 15% annualized return.
The Benefits of Being Small
The fund is supposed to mimic its big brother, the Pimco Total Return Mutual Fund (PTTAX). Since the ETF version is so much smaller, with a market cap of just $2 billion, it can take advantage of better deals. Being quick and nimble has given it an advantage and it's able to handily outperform it's gigantic sibling.
Through the turbulence of the recent months, BOND has been a steadfast and stable area of my portfolio. From March 1st through July 18th, it's ahead over 7% compared to the S & P 500 which barely breaks even.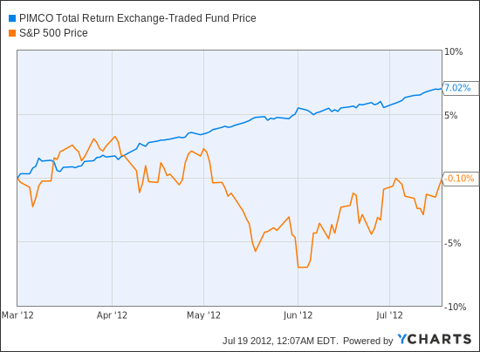 Click to enlarge
The Dollars and Cents
There's some discussion about the fees the Total Return ETF charges compared to the Mutual Fund version. For smaller investors, the fund's costs are not a significant issue. The trade fees, on the other hand, can start to add up.
The ETF bares the same cost as a standard trade. The mutual fund has no transaction fee. For lump sum deposits, the ETF is perfect. If you're planning to add small amounts on a regular basis, it does not make sense to pay that trade fee for any benefit the ETF has; consider the mutual fund instead.
In Conclusion
For now, this fund with its small, nimble size and agile manager, feels like a safe place to keep money at a time with lots of uncertainty on the horizon. Watch out for trade fees when deciding on the ETF over the fund.
As the ETF gets larger in market cap, it will be less able to make the same moves it is now. The ETF should eventually become as 'sluggish' as it's brother. Still, it should maintain it's reliability while Gross's name is behind it. If he moves onto a new ETF, consider that it'll be time to move along with him.
Disclosure: I am long BOND.