At the recently concluded South East Asian regional summit, the 10 member countries were unable to agree on a joint communique. This is the first time in the member block's 45 history that there has not been a consensus in the joint concluding statement. The Philippines wanted the statement to mention the recent standoff between Philippine and Chinese naval ships at Scarborough Shoal, a disputed territory in the South China Sea. Cambodia, who is the summit's chair and very depend on China's trade, declined to add the statement in the concluding statement.
Tensions between China and its neighbors
This impasse in the South China Sea (SCS) looks to carry on, with China, Philippines, Vietnam, Brunei, Malaysia and Taiwan all claiming some part off the area as their Exclusive Economic Zone (EEZ). Under the United Nations on the Law of the Sea, a country's EEZ is 200 nautical miles from its coast.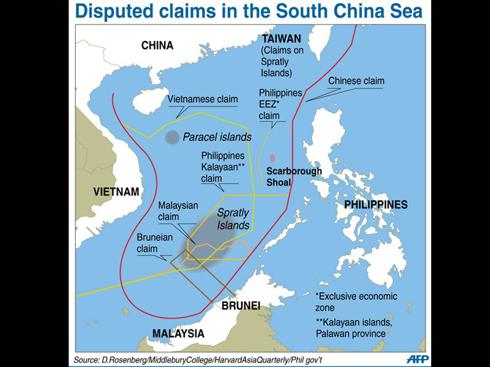 Click to enlarge
The reason why 6 different countries are laying claim to the area is due to the massive oil & gas reserves. China estimates that there could be over 200 billion barrels of oil and 2 quadrillion cubic meters of natural gas in the SCS.
Benefit for CNOOC
CNOOC (CEO) has started exploration in an area 320km southeast of Hong Kong. On 9th May 2012, CEO's first deep water rig, CNOOC 981, started drilling in an area 320km southeast of Hong Kong. In addition, the company has invited tenders from US companies to jointly develop western blocks in the SCS.
This additional source of oil and gas could be a massive for CEO. The company's reserves estimate for its main field in Bohai decreased in by 19.3 mmboe. In addition, its net production in 2012Q1 decreased by 4.8 mmboe compared to 2011Q1.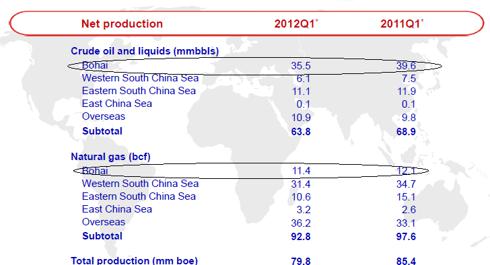 Click to enlarge
Source: CNOOC First Quarter investor presentation
Conclusion
While I do not expect the impasse in the region to be resolved any time soon, CEO's aggressive stance seems to suggest that it will carry on with its drilling in the SCS. The company's tenders with overseas firms, under the protestation of Petro Vietnam, looks to increase the likelihood that drilling in the disputed area will be carried out.
Disclosure: I have no positions in any stocks mentioned, and no plans to initiate any positions within the next 72 hours.