This article is the second of a 5 part series discussing stocks to purchase for retirement.
Part 1, on PPG Industries can be found here.
I believe the five stocks I will discuss in this series of articles are excellent for retirement given the following:
Strong, appropriate yields that allow for comfortable living
Excellent companies with superior economics and management
Dividend growth that is in-line or outpacing real inflation (which I characterize as roughly 4%)
Essentially no "blowout" risk (Derivative, political, etc. types of exposure)
While some of these stocks may have yields that are a bit too low to have a large weighting in a retiree's portfolio, buying them a few years before you actually need the income will give you the double benefit of strong unrealized capital gains and a much improved yield on cost.
Novartis AG (NVS)
Novartis AG is a Swiss Healthcare giant, with over half of its revenues derived from pharmaceuticals.
A major theme in the pharmaceutical space has been the "perfect storm" of blockbuster drugs losing patent protection, exposing major pipeline weaknesses in some, and allowing others to extend their leads in the industry.
As most retirement investors are focused more on the long-term sustainability and growth potential of dividends (which translates into low risk of capital loss), the loss of blockbuster drugs is leading many investors to question if their pharmaceutical stocks can replace enough revenue in order to sustain the current dividends. Astrazenaca (AZN) seems to be the poster-boy for these worries as investors aren't buying into the 8.50% yield, and the stock is still down significantly from its pre-crisis highs.
On the other hand, Novartis has an exceptional pipeline and has already been reaping the benefits of new products, with 28% of 2011 pharma sales coming from recently introduced drugs. Compare this to 2008, when only 10% of pharma sales came from new products, or 2010 (22%).
Pipeline
Although Novartis loses patent protection on Zometa (a billon dollar drug) in 2013, Novartis will more than offset this loss with Tasigna (for chronic leukemia) and everolimus (several indications, particularly niche brain tumors and advanced breast cancer).
Take a look at the full Novartis pipeline: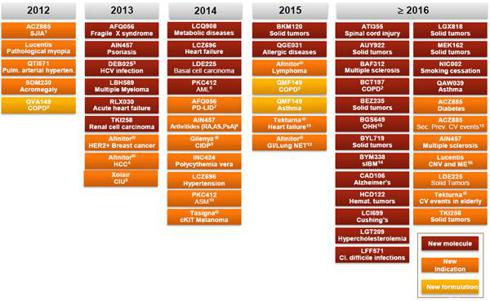 Novartis' management is very excited about the future, and for good reason.
Lucentis (which treats a major cause of blindness) and Galvus (type-2 diabetes) were recently approved in China. These two drugs are the first of their kind in China, and occupy exceptionally large markets. Gavlus is already approved in 90 countries.
Further out, Novartis' oncological line is expected to be the biggest sales catalyst. Afinitor is a major advanced breast cancer drug that was recommended for approval by the EU in late June. If approved for the advanced breast cancer indication, almost $2 billion in additional sales could be achieved.
Alcon, it's recent $50 billion dollar eye-care acquisition, is a huge driver of growth. The segment's FCF jumped from $1.2 bb in 2010 to $3.5 billion in 2011, and its Air Optix contact lens brand, in addition to its glaucoma and cataracts treatments, will continue to have a transformative effect on NVS' bottom line.
Valuation
As a potential retirement stock, we are simply looking for a company trading at a reasonable valuation.
Novartis generates about $12.5 billion in annual free cash flow, while the total market capitalization of the firm is $135 billion. As a result, NVS trades at a mere 10.8 times FCF. It's exceptionally difficult to find price to FCF ratios near 10 in companies like NVS in the current market, so it's quite exciting when you do.
Dividend
Current yield is 4.50%
5-Year average growth of 18%
Last increase was 5%
Payout ratio (based on FCF of $12.5 BB) is a low 50%
Conclusions
Novartis has an exceptional research and development department that has consistently brought new, revenue-replenishing drugs to market with fantastic success. There were 15 approvals in 2011; the highest in the industry.
NVS' oncological and Alcon units are exciting catalysts. With a targeted, patient-specific, revolutionary line of cancer treatments, and a rapidly growing eyecare business, the earnings power of Novartis will continue to grow steadily over the next several years.
The health and quality of the dividend is excellent, considering the large and growing free cash flow, and annual dividend bumps that well outpace inflation. 4.5% should be acceptable for most retirement investors, and the annual payments will continue to grow with time.
At such a reasonable (if not discounted) price to FCF multiple, investors can be sure that they're not overpaying.
Novartis should be considered as a major holding for all retirement portfolios.
Disclosure: I have no positions in any stocks mentioned, and no plans to initiate any positions within the next 72 hours.