"Courage is fear holding on a minute longer." - George S. Patton
As followers of my various writings are aware, I focus my attention on intermarket analysis to get a sense of what price is saying. When certain areas of the investable landscape begin to out or underperform, the message of such movement could foreshadow what is likely to happen in terms of the overall absolute price movement of various asset classes. Given the crisis in Europe and continued concerns over a recession and equity volatility, it would seem to make sense logically that the source of the crisis (Eurozone) should provide clues about risk sentiment more broadly.
This idea has provided strong insights on big movement in the past year, particularly as it relates to Germany. Take a look below at the price ratio of the iShares Germany ETF (EWG) relative to the Dow Jones Industrial Average ETF (DIA). As a reminder, a rising price ratio means the numerator/EWG is outperforming (up more/down less) the denominator/DIA.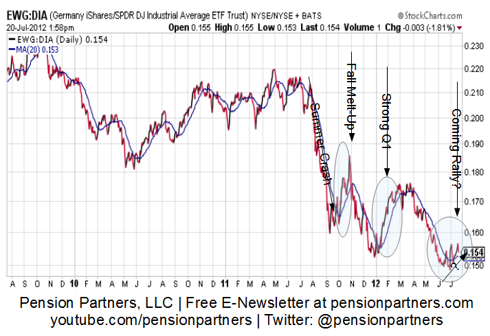 I've annotated the chart to show major market movements and how Germany relative to the U.S. behaved. The Summer Crash of 2011 sent worldwide markets tumbling, with the U.S. performing comparatively better than Germany. On September 30th, I wrote an article titled "Germany, the U.S., and the Fall Melt-Up of 2011" specifically arguing at the time that "there appears to be the early stages of a V-like snap back rally occurring in Germany's markets relative to thee U.S. And while this is a relative move, we should consider that the panic in European equities sparked the decline in the U.S. The natural conclusion then is that any kind of an outperformance trend in Europe would happen in an upswing, pulling markets in the U.S. higher in the short-term." October 3rd ended up being the low, after which markets rallied hard.
After dropping again, the next inflection turn from being a laggard to leader took place at the very end of December, right before one of the best 1st quarters for equities in a very long time. The ratio then began faltering as the May "mini-correction" took place and has since been stabilizing. Notice on the far right of the chart it appears the ratio wants to begin heading higher once again. I suspect a definitive breakout from this level would send broader global markets back up for another leg higher, much like it did in prior lagging to leading periods. This would coincide with the "Summer Surprise" idea of expectations for reflation return and markets put an end to the end of the world trade through risk taking. Strength in Germany likely means strength in the Euro, which in turn should it persist and trend, confirm the idea that bond yields this low are unjusified in the face of a world that has not experienced a Lehman event...at least not yet.
Disclosure: I have no positions in any stocks mentioned, and no plans to initiate any positions within the next 72 hours.
Additional disclosure: This writing is for informational purposes only and does not constitute an offer to sell, a solicitation to buy, or a recommendation regarding any securities transaction, or as an offer to provide advisory or other services by Pension Partners, LLC in any jurisdiction in which such offer, solicitation, purchase or sale would be unlawful under the securities laws of such jurisdiction. The information contained in this writing should not be construed as financial or investment advice on any subject matter. Pension Partners, LLC expressly disclaims all liability in respect to actions taken based on any or all of the information on this writing.