It's been quite a roller coaster ride for Sirius XM (SIRI) in 2012 so far. Starting the year off in the low $1.80's, the share price quickly rose to $2.40 for a host of reasons over the next few months. An overall bull market, meets or beats on subscriber numbers, and some buying pressure as Liberty Media (LMCA) filled their forward contract for 302 million shares at an ultimate price of $2.15 were some of those reasons.
Much to the amusement of bears, it was the announcement of this forward contract coupled with a sudden shift to a bear market that sent the share price on a spiral down from that $2.40 high right back to the low $1.80's in short order. Many questions arose, and confusion ensued about Liberty's ultimate plans. Because the market hates uncertainty, and because the market especially hates uncertainty in the face of an overall bearish macro situation, the gains from the entire year were lost in a little over a month.
But things have turned back up. Sirius XM is now in an uptrend again and quite honestly could very well regain its losses in short order. When you consider how rapidly the share price returned from $1.80 to $2.10, it's not unreasonable to prepare for another rise from $2.10 to $2.35. When it makes a move, Sirius XM's share price moves swiftly, and for investors and traders alike it's best not to be caught off guard.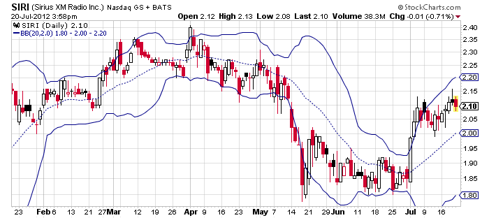 As time ticks closer to an eventual Liberty Media move to control of Sirius XM, I prefer to invest in Sirius XM based on how the company is performing and how I expect it to perform. I'd rather not mire myself in questions about whether Liberty's share price will see a small premium, or Sirius XM. I can't see chasing a few percent on either side. The conservative play many seem to be pursuing is a 50 / 50 split between Sirius XM shares and Liberty Media shares, and while I see some merit in that play, it's just not for me.
I own a small position in Liberty Media but the bulk of my position lies with Sirius XM as I feel the company is presently undervalued at $2.10. Sirius XM is in an uptrend, and good news is hitting the wire such as the addition of over 600,000 subscribers in Q2, as well as several analyst upgrades and price target hikes. I simply feel as the questions become answers, and the nervousness fades from the investment community, Sirius XM will become rather attractive at current share pricing. Consider the most recent "buy" rating and $2.80 price target for Sirius XM by ISI Group.
Now focus on the following quote from their target :
He also notes that the company's free cash flow profile is improving, and that the company could potentially could buy back over $5 billion of its stock over a three-year period starting in 2013.
$5 Billion in share buybacks over a three year period. Consider my expectations from the use of just $1 billion to buy back shares, and that I feel that will be Liberty's first order of business once it obtains control. Add another possible $4 billion to that effect. The results could be massive upside potential in relatively short order.
I just see investment in Sirius XM as "simple." Growing subscribers, money flowing in in record quantities quarter after quarter, and a company which has turned the corner into profitability and has set itself up as a cash producing machine. Forget the guesswork of which IP delivered radio product will win the IP war. Forget who gets the 5% premium in the Liberty take over. Why chase maybes, and pennies now? Sirius XM is on track this year, in my opinion, to $2.75. If there's as significant a buyback as ISI Group is expecting? $5 over 3 years is not unreasonable. From $2.10 to $5 in 3 years should make anyone grin.