The U.S. stock market has defied logic in recent weeks. Despite widespread signals that the economy is slowing and potentially grinding toward recession, stocks have continued to push higher, tacking on 100 points on the S&P 500 (SPY), or +8%, since bottoming at the beginning of June. A primary driver of support for stocks in recent months is the hope that the U.S. Federal Reserve will intervene with yet another round of quantitative easing (QE). Never mind that previous rounds of QE have done little to support a sustainable economic recovery. As long as markets can cling to the hope that the next monetary fix is just around the corner regardless of the reasons, U.S. stocks appear determined to hold their ground.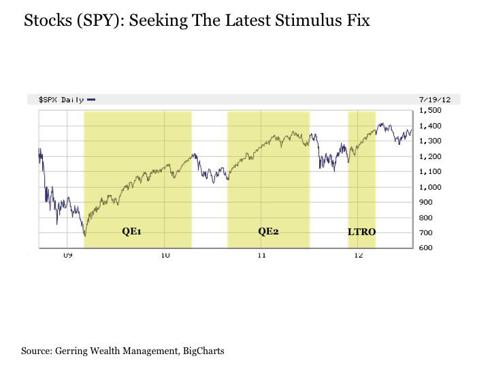 Click to enlarge
Unfortunately for U.S. stocks, a disappointing message keeps coming in from the precious metals market. Many stock investors are hoping that the Fed will deliver QE3 to the market at their upcoming July 31-August 1. If not then, then the Fed will definitely deliver at Jackson Hole at the end of August. But if we were truly on the brink of receiving another round of QE from the Fed, both Gold and Silver would be performing quite differently from how they are now.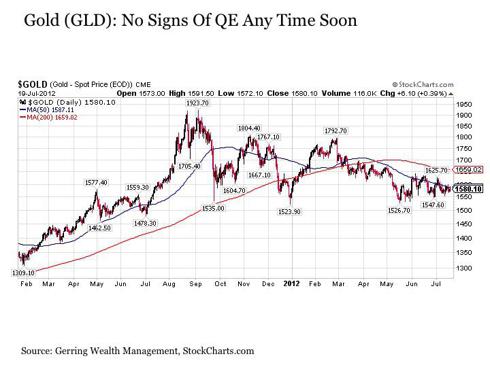 Click to enlarge
Let's start with Gold (GLD). The yellow metal is also highly sensitive to balance sheet expanding QE stimulus from the Fed, as the printing of money debases the value of the U.S. dollar, which increases the demand for Gold as a store of value. Thus, if the Gold market were anticipating that we are on the cusp of another round of QE, it would likely be rallying strongly. Using recent history as an example, Gold began rallying firmly for several months before the launch of QE1 and over a month ahead of the announcement of QE2. Today, the price of Gold continues to languish just above long-term support at $1,550 per ounce and remains well below the previous peaks that came just before the Fed announced Operation Twist in September. Given that Operation Twist has left Gold in a state of limbo between crisis and full blown stimulus, the Gold market continues to signal that nothing more than more Operation Twist is in store for the foreseeable future.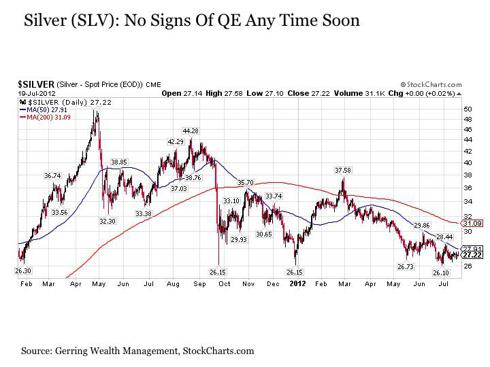 Click to enlarge
What about Silver (SLV)? The white metal is confirming Gold's no QE message. Even more so than Gold, Silver loves QE. Reflecting on the recent past, Silver exploded higher even more than the stock market from the day that the Fed effectively announced QE2 at Jackson Hole in late August 2010. So if the Silver market had any sense whatsoever that we would be seeing QE3 anytime soon, it would likely be rallying sharply. Instead, it remains stuck in a sustained downtrend that also began last September upon the announcement of Operation Twist.
Thus, if stock investors are hanging everything on the hope of more QE from the Fed, the Gold and Silver markets suggest that they may be in for a great disappointment.
This perspective is helpful from a portfolio strategy perspective. In short, stocks are set up for disappointment and the risks are to the downside. Sure they may rally if the Fed actually provides QE3, but the potential is far greater for a sharp correction if stocks do not get the stimulus they so crave. However, Gold and Silver are set up for surprise with risks to the upside. Gold and Silver remain sluggish, but suppose the Fed actually delivers more QE in the end. Given that both precious metals are not pricing such a move in at present, this implies the potential for an explosive move to the upside under such an outcome.
Better yet for the precious metals, if global markets instead descend into crisis, both Gold and Silver offer far greater appeal given their ability to rally as a safe haven whereas stocks are likely to be thrown out indiscriminately under such a scenario.
For these reasons, I remain long Gold and Silver. I also hold an allocation to stocks, but this allocation is far more selective and focused on only the highest quality and lowest volatility names in the equity universe. Examples include McDonald's (MCD), Nike (NKE), Procter & Gamble (PG) and Hormel Foods (HRL). And each is on a short leash depending on how market conditions unfold.
So whether the Fed delivers QE or not to the markets in the coming months, the precious metals of Gold and Silver represent a far better risk reward opportunity than stocks.
This post is for information purposes only. There are risks involved with investing including loss of principal. Gerring Wealth Management (GWM) makes no explicit or implicit guarantee with respect to performance or the outcome of any investment or projections made by GWM. There is no guarantee that the goals of the strategies discussed by GWM will be met.
Disclosure: I am long GLD, SLV, MCD, NKE, PG, HRL.
Additional disclosure: I will be following up soon with an update on the details of my strategy for Gold and Silver allocations.