When Apple (AAPL) announced its last quarterly results in April the company announced that it expected this quarter's revenues to be about $34 billion with EPS of about $8.68.
But why does the company even issue guidance? It's not like the numbers have much relevance to what actually happens.
Apple Insider published a chart from Morgan Stanley on Apple's guidance vs. analyst consensus estimates: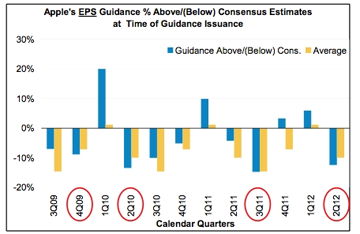 (Click to view larger version at Apple Insider)
The chart is called "Apple's EPS guidance percentage above/below consensus estimates at time of guidance issued." Whew! What a mouthful. And who cares? Not me.
Sure, I'd like to see a blowout report just like the next Apple shareholder, but a blowout against what? It's just hard to put much faith in the analyst community when you read that they're "scrambling" to "fine tune Apple estimates"
EPS estimates are all over the map - from under $10 to more than $12 - but all are well above the $8.68 the company itself estimated three months ago. Doesn't this all seem a bit silly to you?
***
Guidance: Will it tickle the funny bone?
Next week the company will announce new guidance for the next quarter. Even if this quarter's numbers meet all expectations, if the absurdly low guidance for October is too absurdly low, get ready for the obligatory sell-off.
But if the guidance for October is high enough to be merely reasonably absurd and you don't hear side-splitting laughter (or uncontrollable sobbing), then Apple probably rallies to set new highs.
What a game. Entertaining, but the results don't really matter much to me. I'm going to be holding the stock for the long-haul regardless of what a "consensus" of analysts have to say about it.
I'm waiting for Apple to hit a $1 trillion market cap. Others disagree, but I think I'm going to be right.
Silly? Maybe. But I'm a realist, too. Apple is a highly liquid stock that can sell off in a heartbeat. We saw that after the last earnings report - with the stock trading from the 630s all the way down into the 520s in a few weeks. Indeed, the company can gain or lose tens of billions of dollars in market cap in just a few trading sessions.
So will Apple set a new all-time high this quarter? Who knows? Given overall market conditions, maybe the high is already in for the quarter, perhaps even for the year. I'd certainly be disappointed, but I wouldn't be crying over it. I actually might buy more.
But the notion that Apple never trades above its current all-time closing high of $636.23? That's really absurd. Tickles my funny bone just thinking about it.
Disclosure: I am long AAPL.