Starbucks (NASDAQ:SBUX) reports Q3 earnings on July 26th.
The Street expects:
Revenue -- $3.33 billion
EPS -- $0.46
Q3 revenue guide -- $3.45 billion
At the recent William Blair Growth Stock Conference, management indicated EPS expectations of $0.44-$0.45, compared with prior expectations of $0.46-$0.47 due to possible dilution from the La Boulange acquisition (see below).
Investors could see another resilient quarter as ground coffee and K-Cups sales are gaining momentum. According to data from Nielsen, Starbucks' ground coffee segment, which includes K-Cups, continues to gain shares at the expense of J.M. Smucker (NYSE:SJM) and Kraft (KFT).
Click to enlarge images.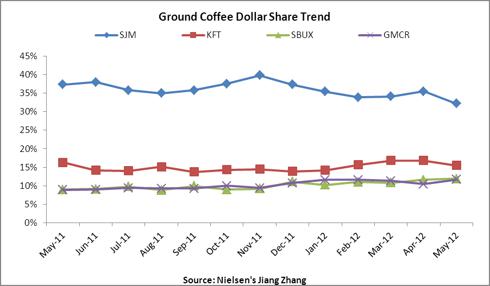 Click to enlarge
Specifically in the K-Cups category, Starbucks is taking shares away from Green Mountain Coffee Roasters (NASDAQ:GMCR).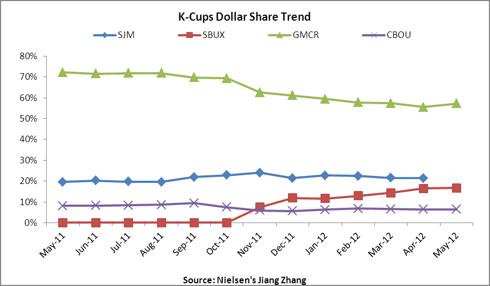 Click to enlarge
Heading forward, Starbucks' K-Cups will continue to grab more dollar shares after they become available in U.S. retail stores on June 12th. Additional varieties and distribution to Canada will start in July. Given K-Cups' strong momentum and positive data points from Nielsen's, Starbucks should continue to deliver strong results for the remainder of the year.
On a side note, Starbucks' recent acquisition of La Boulange Cafe and Bakery chain for $100 million in cash bodes well for its 8,000 company-operated stores, as La Boulange greatly expands the company's bakery offerings and drives store traffic. La Boulange operates a chain of 19 bakery/cafes in the San Francisco Bay Area and features a wide variety of sandwiches, soups, salads, and baked goods that are priced similarly to the items served at Starbucks. Management is looking to bring core baked goods such as pastries, croissants, breads, and muffins to Starbucks locations around the San Francisco Bay Area first, followed by a broader national rollout.
Over the past several quarters, Starbucks has been embarking on several strategic acquisitions to enhance its menu. Recall that last year the company purchased Evolution Fresh to bolster its all-natural fruit juice offerings. The management also indicated that it is interested in pursuing international acquisitions that will further enhance its menu and store experience.
Disclosure: I have no positions in any stocks mentioned, and no plans to initiate any positions within the next 72 hours.