Facebook (NASDAQ:FB) reports earnings on Thursday, July 26.
| | | |
| --- | --- | --- |
| | Consensus | JZ estimates |
| Revenue (billions) | $1.18 | $1.20 |
| EPS | $0.15 | $0.14 |
| Q3 revenue guide (billions) | $1.25 | $1.24 |
Heading into the earnings, user growth and mobile monetization will be in focus.
At the end of Q1, Facebook had 901 million Monthly Active Users (MAUs), +32% y/y. Assuming a 31% y/y growth in MAUs, I forecast the worldwide MAUs to be 969 million in Q2, and over a billion by Q3. By year end, Facebook could penetrate half of the world's Internet users.
(click images to enlarge)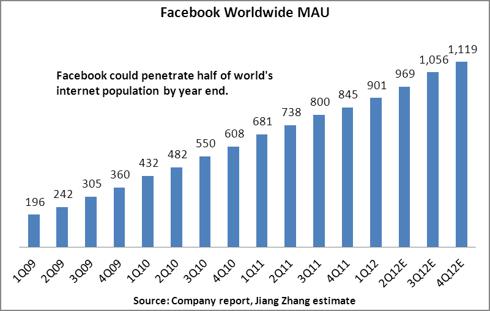 Click to enlarge
A major catalyst in the upcoming earnings is Facebook's mobile monetization trend. In 1Q12, Facebook began to monetize mobile by incorporating Sponsored Stories into users' newsfeeds. I am extremely positive on Facebook's mobile growth, because I believe that rising mobile engagement and adoption of mobile ads will lead to higher ARPU and margin expansion.
According to a report done by TBG Digital on 17 Facebook clients and over 270 million Sponsored Stories impressions, mobile news feed achieves an astonishing 1.14% clickthrough rate at $0.86 cost per click, which translates to $9.86 cost per thousand impressions. Desktop newsfeed only achieves 0.588% clickthrough rate at $0.63 cost per click, resulting only $3.72 cost per thousand impressions.
Facebook Ad Performance

Placement Targeting

Clickthrough Rate

Cost Per Click

Cost Per Mile

Mobile News Feed

1.140%

$0.86

$9.86

Desktop News Feed

0.588%

$0.63

$3.72

Desktop (news feed + sidebar)

0.083%

$0.88

$0.74
Source: TGB Digital, Jiang Zhang
As the number of advertisers using mobile ads increases, cost per click will also increase, giving Facebook immense pricing power in the future.
However, an area of concern is that U.S. user growth and engagement level is hitting a plateau. I note that Daily Active Users as a percentage of MAUs in the U.S. and Canada dropped 100bps to 69% in Q1, while the other regions continued to show rising engagement.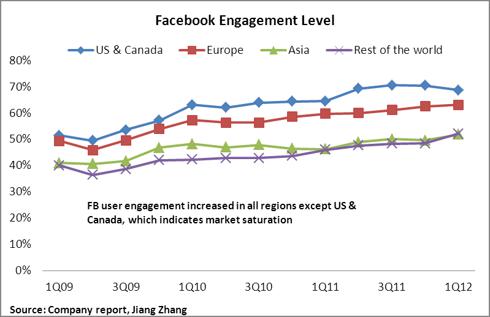 Click to enlarge
Prolonged decline in user engagement could result in lower ad revenue, and this is a major concern, given that the U.S. & Canada are Facebook's most profitable markets in terms of advertising revenue per user.
To see my investment thesis on Facebook, please see my June 25 initiation report, titled "Facebook: Compelling Growth, But Fairly Valued."
To see my competitive analysis on Facebook, please see my June 28 note, titled "Facebook: Intense Domestic Competition, International Growth Lacks Visibility."
Disclosure: I have no positions in any stocks mentioned, and no plans to initiate any positions within the next 72 hours.