Just about when everybody was ready to give up on Mexican food purveyor Chipotle (NYSE:CMG), the Colorado-based company comes out and blows past the Street. Wednesday after the bell, Chipotle reported 52c for Q108 vs. consensus of 48c while revenues came in at $305.3M vs. $298.4M estimates. Chipotle also crushed the low-ball same store sales estimate for the quarter, coming in at 10.1% vs. 7% cons. More importantly, they guided to comps in the mid single digit range for FY08 vs. the low single digit comp guidance they doled out on the Q407 call.
Couple of tidbits from the conference call we thought were worth pointing out:
• CMG is seeing additional commodity pressures; this was expected and it's why Chipotle is increasing prices 3% in most locales so that they can stabilize margins. Currently the company expects food costs to remain in the same range. Q408 inputs might jump up a bit because it has prices locked up until end of Q3 - avocado is already seeing an increase, and they expect to see a similar increase for rice and soy oil.
• They said they worked in a 10% price increase in New York (where they had not increased prices for 3 years) and customers didn't freak out. This was key, we thought, since it continues the theme management carved out in the last time: our core customers aren't ditching us because of $3.50 gas!
• On the marketing front, CMG is taking planned approach instead of running around like chickens with no head (no pun intended). Many of its markets they're focused on are reaching that 100% all-natural level, which they want to leverage by way of advertising. CMG is still on track to open 130-40 more stores this year.
Chart-wise, we're looking at an inverted head and shoulders with a breakout waiting at the $120 level. On a sustained rally, the test "psyche" level will be just under the $52 week high of $155. Shares still have a large short interest position built in (33% off a 14M float) and the fact that Chipotle did not drop the ball in a sour economy like ours means shorts will likely be covering bets near term as things were not as bad as people expected – at least this time around. Click to enlarge: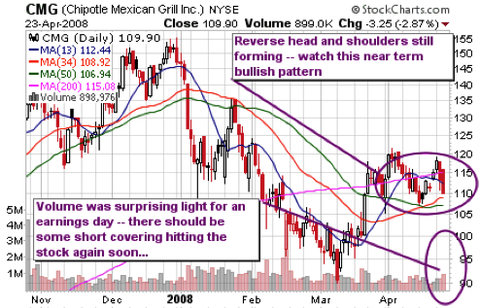 Bottom line: Comps were strong, guidance was strong. Shares are by no means cheap (fetches 40x our 08 EPS est of $2.70), but there's still some steam to the story (we're modeling 3000 units before CMG saturates the US), you can't find a better unit economics model in the space, and you've gotta give management a high five here – they're remarkably "streetable" for a company just 2 years in the public eye (IPOd 1/2006) and have found the right balance of promise/execution.
We maintain our buy rating & $130 price target. With shares still trading at the frothy end of the P/E range (peer group fetches ~18x), we suggest using trailing stops if shares ramp heading into the summer season.
Disclosure: Author is part of an Indiana University long-only fund that was long CMG at the time the article was written.