Hess (HES) has been one of the biggest clunkers in my portfolio in 2012. Falling oil prices in the second quarter and poor management execution have knocked the shares down substantially. I bought additional shares in June to average down as I think the shares have significant long term value. Recently, the stock has started to finally move up and has had some recent positive catalysts as well. If it can beat estimates next week when it reports earnings the shares should continue to climb.
Recent Positives for Hess:
Citigroup upgraded the shares from a neutral rating to a buy rating this week.
Brian Rogers of T Rowe Price, who helps manage $500B, has bought over 1mm shares recently based on the stock's low valuation.
Insiders were heavy buyers of the shares in the second quarter, snapping up some $4mm in new shares at higher prices.
Oil looks like it has bottomed (See Chart). Its recent increase should continue to help sentiment on the energy sector and produce better results for HES.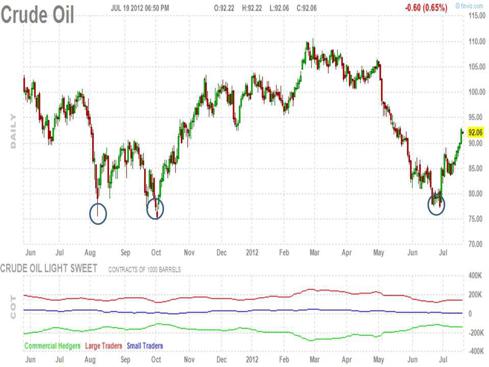 Click to enlarge
"Hess Corporation operates as an integrated energy company. The company operates in two segments, Exploration and Production (E&P) and Marketing and Refining (M&R)." (Business description from Yahoo Finance).
Four reasons HES has value at $45 a share:
72% of the company's production is oil and just 28% is natural gas. Moreover, a good portion of natural gas production is in Asia where prices are much higher than North America. It also replaced 157% of its production in 2011.
The stock is selling at the bottom of its five year valuation range based on P/B, P/E, P/S and P/CF.
The mean price target of the 14 analysts that cover the stock is just north of $65 a share. S&P has a "Buy" rating and a $63 price target on the stock.
The stock has recently bounced off the same level as its crisis low in 2009 (See Chart)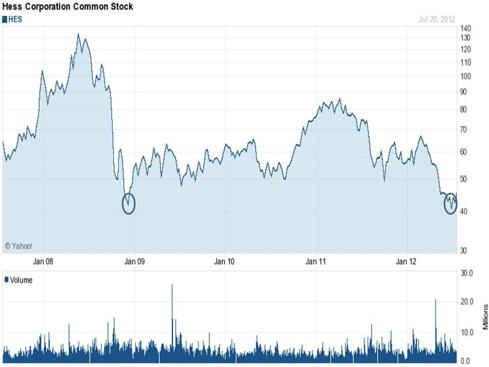 Click to enlarge
Disclosure: I am long HES.