Regardless of how one might perceive the market this past week, the Bullish Percent Indicators are telling us that the overall market is stronger.
Major indexes: The S&P 500 turned the ball over to the offensive team. More large-cap stocks are showing up with positive bullish point and figure graphs. The only index not on the offensive is the NASDAQ 100. Keep in mind that I am using the percentage setting, not the arithmetic or traditional setting, when generating these values. Check the numbers to see if they increased or decreased.
The second table shows the ten sectors for which we have data. Again, I used the percentage setting, not the traditional setting.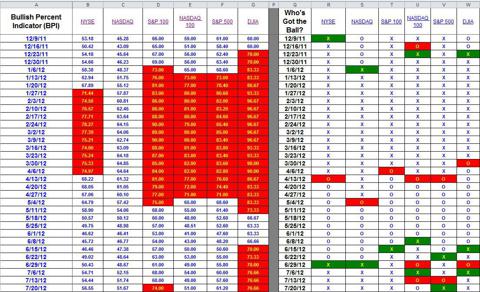 Sectors: Three sectors handed the ball over to the offensive team this week. This is big. Discretionary, Industrial, and Technology all reversed their move last week. Looking at the numerical values, Staples and Utilities are overbought. There are no great buying opportunities as most of the sectors are fairly valued. We need to see a market drop to where the values lie below the 30% line. This is not likely to happen in 2012, and if it does, we are prepared to deal with the situation with the ITARR model.