Shares of Whole Foods Market Inc (WFM) closed Friday's trading session lower by 7.19% and closed the week lower by more than 10% ahead of next week's earnings report.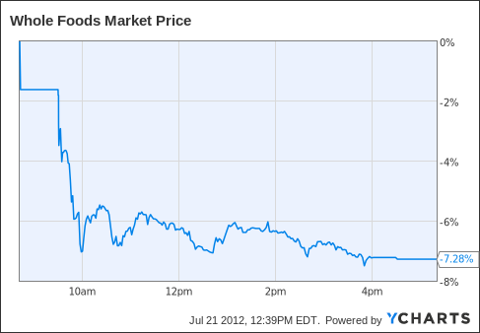 Click to enlargeWFM data by YCharts
Chipotle Earnings Miss
One reason for the move lower in WFM ahead of earnings was the weak earnings report from Chipotle Mexican Grill Inc (CMG). In addition to the earnings miss, management's cautious comments about consumer confidence helped send shares lower by more than 21%. Chipotle is similar to Whole Foods in many ways: both companies offer superior, but more expensive, food options than their peers; Chipotle and Whole Foods have also been among the stock market's strongest performers over the past few years; both stocks trade at high valuations. Market participants used Chipotle's earnings miss as a reason to sell Whole Foods.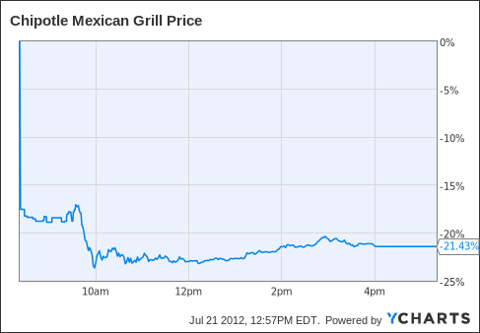 Click to enlarge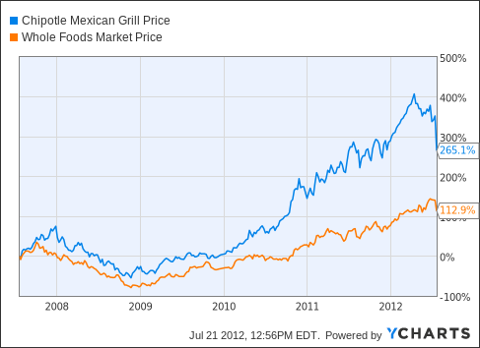 Click to enlargeCMG data by YCharts
My Take
In my opinion, the weakness ahead of earnings makes WFM a better buy than a sell ahead of earnings. WFM is now down more than 13% from its all-time high reached in late June. However, with WFM trading at more than 38 times earnings, a Chipolte like move is certainly not out of the question. For this reason, I would suggest investors only speculate on earnings with options so that risk is limited to the premium paid. If the stock sells off following earnings, I would be a buyer as I believe the long-term story is very good.
Disclosure: I have no positions in any stocks mentioned, and no plans to initiate any positions within the next 72 hours.