With energy demand expected to grow by 50% in the first half of the 21st century, national oil companies [NOCs] are playing an increasingly important role in supplying the world's oil and gas needs. NOCs competing in the global oil and gas arena control over 75% of the global oil and gas reserves, and are comfortably positioned for steady growth in future years in comparison with major international oil companies (IOCs) like Exxon Mobil Corp (NYSE:XOM), Royal Dutch Shell NV (NYSE:RDS.A) (NYSE:RDS.B), BP Plc (NYSE:BP) and Chevron Corp (NYSE:CVX). These national oil companies are supported by huge domestic reserves and strong government backing.
NOCs are leading investments in the oil and gas sector. Last year, global oil and gas capital expenditure [capex] registered a sharp increase of 14% compared with 2010. This growth trend by global oil and gas companies is expected to continue, with a further 13% rise in capex anticipated in 2012. This increase will primarily be driven by high, sustained crude oil prices.
As the availability of crude oil and natural gas from onshore fields declines, more complex and expensive technology is required to produce oil and gas from deep and ultra-deep offshore areas, and unconventional sources such as oil and gas shales, oil sands and coal bed methane. It is estimated that in 2012 the global oil and gas industry will register a total capex in excess of $1.000 billion. Capex from NOCs will increase from $448 billion in 2011 to $515 billion, up by 14.5%. Integrated oil companies will increase capex by 7.9% from $329 billion in 2011 to $355 billion in 2012.
In recent years, high crude oil prices coupled with a re-emergence of resource nationalization has fueled the growth of NOCs. The national governments, motivated by transferring a higher share of revenues generated from domestic oil and gas reserves, back into the country, prefer to promote the related national oil company's dominance over the energy sector.
The national oil companies too are becoming more and more growth oriented. These companies already dominate the domestic industry and are now looking to establish themselves as prominent players in the global energy market. However even today, the national oil companies are driven by the domestic country's long-term needs and objectives.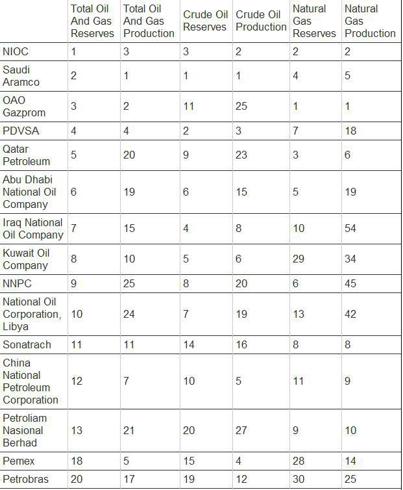 Russia's Gazprom (OTCPK:OGZPY), China's CNPC, through its publicly traded subsidiary PetroChina (NYSE:PTR), and Brazil's Petrobras (NYSE:PBR) are the publicly traded NOCs included in the above list, but just the tip of the iceberg in terms of exchange-listed NOCs.
China has three main state-controlled energy firms; the China National Petroleum Corporation [CNPC] , the China National Petroleum & Chemical Corporation [SINOPEC] (NYSE:SNP), and the China National Offshore Oil Corporation [CNOOC] (NYSE:CEO). CNPC is China's flagship energy firm, employing more people than any other Asian NOC. SINOPEC is an integrated energy and chemical company. It's China's largest producer and supplier of oil products and major petrochemical products and the 2nd largest national crude oil producer.

Each of the big 3 Chinese NOCs has a subsidiary in charge of international E&P. SINOPEC Corp is listed on the Hong Kong, New York, London and Shanghai Stock Exchanges and 77.42% of its shares are held by the People's Republic of China [PRC] with 71.23% of total shares held through SINOPEC Group, a 100% state-owned energy holding company. CNOOC Ltd is China's state-owned specialist offshore company, 70.6% of which is owned by CNOOC, the parent company, which in turn is 100% owned by PRC.
The Ministry of Land and Resources [MLR] oversees the exploration and production of the mineral and oil and gas resources within the national territory. The MLR grants exploration and production licenses and conducts surveys of the country's natural resources. The State-owned Assets Supervision & Administration Commission [SASAC] regulates state assets held by state-owned enterprises [SOEs].
All managers of the state oil companies are appointed by the government, with SASAC playing a central role and the State Council making the final decision on all management personnel nominations. The Ministry of Commerce [MOFCOM] sets import and export rules for national oil companies.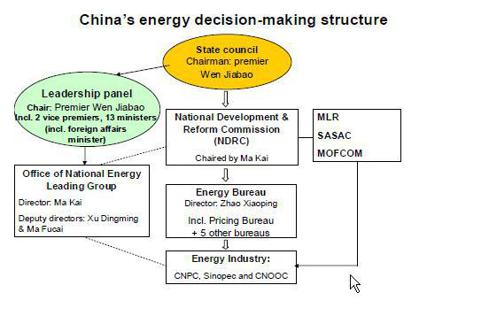 Turning to Russia, in the years leading up to the global economic downturn, the country has enjoyed high rates of economic growth predominantly fueled by its vast resources of oil and gas. The fossil fuels exploitation, production, refinery and trade is paramount to the Russian economy as well as to the states rule.
Russia holds the world's largest natural gas reserves, the second largest coal reserves, and the eighth largest crude oil reserves. Russia surpassed Saudi Arabia as the largest producer of crude oil in 2009. Russia is the second-largest producer of natural gas.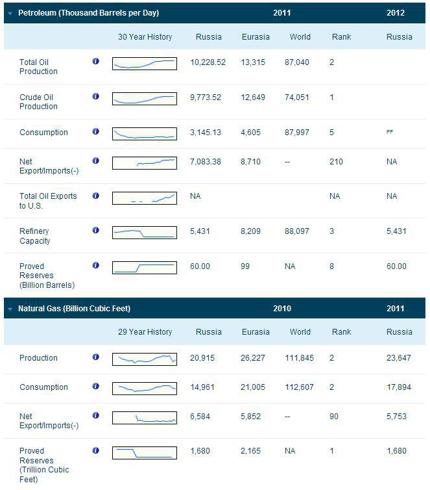 Under the rule of Putin, the political elite have tightened their grip on the economy, not only through the nationalizations in the petroleum sector and the reforms in the constitutions related to foreign ownership in fossil fuel development. The presence of the Kremlin inner circle at the boards of the Russian national oil companies, OAO Rosneft (OTC:RNFTF), OAO Gazprom, Gazprom Neft (OTCQX:GZPFY), and OAO Transneft (TRNFP.ME), provides the political elite with even more influence. Transneft currently has a monopoly over Russia's pipeline network.
The establishment of the Oil Stabilization Fund in 2004 and the National Welfare Fund in 2008 has provided the political elite with funds in which the fossil fuel economy rents are accumulated. These sovereign wealth funds provide the elite with a capital pool valued at around $150 billion, with the funds being managed by the Ministry of Finance. The capital of the National Welfare Fund especially can be used at the discretion of the regime with aim of diversifying the Russian economy.
Unlike Iran, NIOC stands for National Iranian Oil Company, and China, the oil and gas sector in Russia is not the sole domain of state owned organizations, but the government does hold major stakes in Gazprom, Gazprom Neft, Rosneft and Transneft as well as through having tight relations and considerate influence in the operations of non-government owned Russian oil companies OAO Lukoil (OTCPK:LUKOY), TNK-BP and Surgut-Neftegas (OTCPK:SGTZY). BP is currently in the process of selling its 50% stake in TNK-BP to Alfa Access-Renova, while also negotiating with other interested parties in parallel.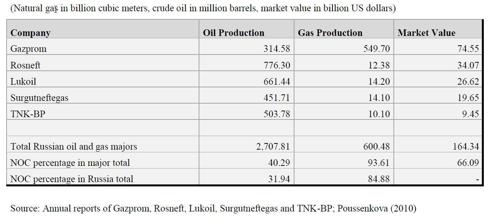 The operations of IOCs in Russia have become limited since the passing of a federal law in 2005 concerning natural resources, which prohibits foreign investors from participating by more than 50% in ventures for the exploration of hydrocarbons. A prime example was Shell's Sakhalin-2 project, which included the first LNG plant ever constructed in Russia and went operational in March 2009.
From the outset Sakhalin was considered of vital importance to Russia's energy policy. Initially the Sakhalin Energy consortium, consisting of Shell, Marathon Oil Corp (NYSE:MRO), McDermott Int (NYSE:MDR), and Mitsui & Co (OTCPK:MITSY), had a contract to produce gas without a local partner. During 2005-2006 the consortium came under increased scrutiny from the government, supposedly due to environmental concerns, and legal proceedings were initiated.
Under legal and political pressure, the consortium was forced to sell a majority stake to a Russian NOC. Gazprom finally took control over a 50%-plus-one-share stake in the project in 2007, as Shell was forced to sell part of its stake. Russian President Putin attended the signing ceremony and announced that the environmental issues had been resolved.
A recent example of escalating tensions between an IOC and a NOC was the threat by Bagdad and the Iraq National Oil Company [INOC] to bar Exxon from further work on the West Qurna Phase-1 field in Iraq, where Exxon is currently producing oil under a service contract, if it follows through on a deal to explore for oil in the Kurdish region of the country. Iraq's oil ministry went one step further, threatening to replace Exxon Mobil with Shell, which is a partner in West Qurna Phase-1.
Despite attractively valuations and growth potential of Chinese and Russian NOCS, some investors prefer to limit their investments in national oil companies to those NOCs backed by transparent and accountable, fairly elected governments, bringing us to Petroleo Brasileiro SA, better known as Petrobras, of Brazil and Statoil ASA (NYSE:STO) of Norway.
The Norwegian State Oil Company was long considered the undisputed preferred pick amongst the NOCs, and not just because of Statoil's outstanding track record over the last 40 years, operating in 37 countries. In 2011 Statoil's profitability per barrel of oil equivalent [BOE] was approximately $4.70, compared to an industry average of $3.60. In addition, Statoil spend about $7.40 in capex per BOE, compared to $7.50 for the industry as a whole. It basically spends less to make more.
Statoil, Chevron, and Total SA (NYSE:TOT) of France are making a $38.2 billion investment in the UK North Sea, targeting the largest number of fields since 1995, 50 deposits with an estimated 2 billion BOE, which will account for 1/3 of the UK's expected output by 2019.
The companies are taking advantage of available infrastructure and proximity to markets to ramp up investment in the North Sea. Statoil plans to invest about $9.6 billion in the Mariner and Bressay fields, Total will invest $3.9 billion in the Laggan project, west of the Shetland Islands, and Chevron is taking on the Rosebank project.
However, when it comes to big oil discoveries during the last decade, Brazil was without a doubt the 'place to be'. The Centre for Economics and Business Research [CEBR] in its latest World Economic League Table showed that Brazil became the world's sixth largest economy in 2011, bigger than India or Russia, and overtaking the United Kingdom. Not surprising, as huge oil discoveries off the Brazilian coast in recent years has firmly established the country's national oil company as a major player.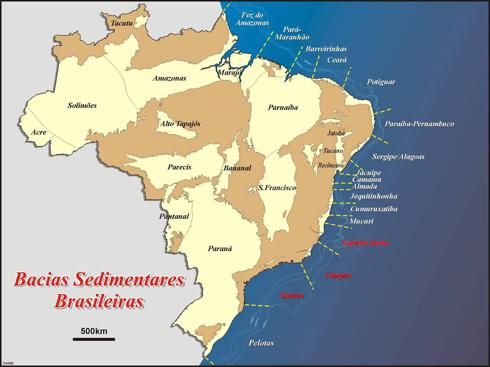 Petrobras is now the largest company in Latin America by market cap and revenue, the 8th largest in the world, and active in 29 countries. In September 2010, the company conducted the largest share sale in history, when $72.8 billion worth of shares was sold on the BM&F Bovespa stock exchange. The Brazilian government currently owns 54% of Petrobras' common shares with voting rights directly, while the Brazilian Development Bank and Brazil's Sovereign Wealth Fund (Fundo Soberano) each control 5%, bringing the State's direct and indirect ownership to 64%.
Last week Petrobas announced plans to raise diesel fuel prices at refineries by 6%, translating to a 4% increase at the pump. The arrival of new CEO Maria Das Graças Foster appears to have brought more emphasis on price increases at this NOC, which has lost money recently importing fuel to sell at government-mandated prices. The diesel price hike is the second fuel increase in a month, after announcing to raise national gasoline prices at refineries by 7.83% on June 22. There may finally be a change in mentality in this company's management.
On June 15, Petrobras made the world's largest corporate investment program even bigger, committing the company to $236.5 billion of spending by the end of 2016, $11 billion more than its 2011-2015 plan, in order to pay for the hundreds of ships, dozens of oil fields, drill-rigs and platforms it wants in order to become one of the world's top-four oil producers by 2020.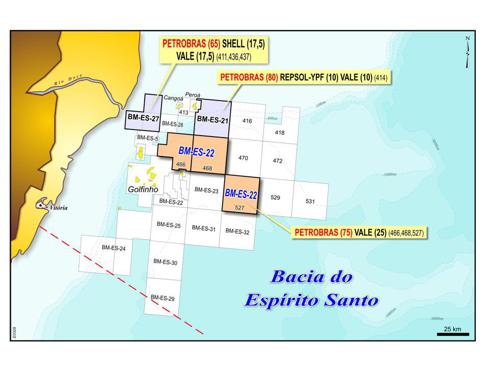 The recent Brazilian offshore oil discoveries, among the world's largest in decades, are expected to more than double Petrobras' reserves to more than 30 billion barrels by 2015, but as most of these mega-fields are located in the pre-salt layer at a depth of at least 5.000 meters - 16.000 ft - below the sea level, Petrobras and its partners, IOCs and NOCs, need plenty of deepwater and ultra-deepwater rigs from the major contract drillers; Transocean Ltd (NYSE:RIG), Ensco Plc (NYSE:ESV), Seadrill Ltd (NYSE:SDRL) and Diamond Offshore Drilling Inc (NYSE:DO). Efforts by oil companies to produce oil and gas from deep and ultra-deep offshore areas hinge on sufficient availability of specialized personnel, technical expertise, and complex technology, as provided by these big 4 drillers.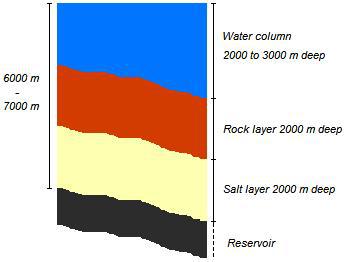 Although the discoveries of the Lula, now called Tupi, and Jupiter mega-fields in Brazil were quite exceptional in terms of size, offshore oil discoveries are being made across the globe by other IOCs and NOCs, with the NOCs clearly the main beneficiaries. West Africa is another such hotbed of exploration, but activity is ramping up in the US and across Asia as well.
As we can clearly see in the recent fleet update report of world's largest driller Transocean, day rates are firmly on the rise and that seems to indicate higher levels of capex for all oil majors going forward. Challenges remain, especially with deepwater drilling, and there are always risks; equipment failure, low penetration rates, potential hole-stability problems.
It's evident that most of the remaining resources, being oil or (shale) gas, are under firm control of NOCs with little or no equity participation by foreign IOCs. The Western IOCs now control less than 10% of the world's oil and gas resource base, and in terms of current world oil production, NOCs also dominate. Of the top oil producing companies in the world, the majority are NOCs or newly privatized NOCs. However, many of the Western major oil companies continue to achieve a dramatically higher return on capital than NOCs of similar size and operations. Main reasons: extensive experience and expertise, and superior technological programs for both oil and gas.
Oil companies have been sporting attractive valuations as of late, with NOCs having an edge in terms of fundamental metrics, with similar dividend yields to IOCs. IOCs have the edge in terms of higher ROI and more transparency, clearly. It's an investor's prerogative to decide what's more important. Do you go for reserve levels and growth potential, and take government intervention and a certain level of unpredictability for granted, or do you go for the proven track records of the IOCs. In the end it boils done to production, revenues, margins, and bottom-line net profits. NOCs, IOCs, or a little bit of both... You decide!
Disclosure: I am long RDS.A, BP, OTC:RNFTF, PTR, RIG, ESV, PBR.