Yesterday, Synthesis Energy Systems (NASDAQ:SYMX) and Consol Energy (NYSE:CNX) announced the successful completion of an engineering study for the delevopment of a gasification plant utizlizing SES's patented U-Gas technology and Consol Energy's waste coal as a feedstock to create valuable alternative energy chemicals like syngas and methanol.
Yesterday's news is a milestone. This study marks the beginning of the first gasification plant in the US of an industrial scale project. In the next several days, SES and Consol Energy will need to complete the front-end engineering design ("FEED") package for the project, negotiate a definitive joint venture agreement, and complete definitive offtake agreements.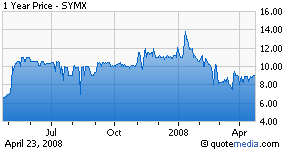 What is the importance of the U-gas technology, you may ask? U-Gas can gasify a broad range of feedstocks, including low rank and waste coals. U-Gas also allows the gasification plants to operate at lower temperatures resulting in lower operating costs and less down-time. SES has a longterm procurement deal with Consol Energy and the good news is Consol is in no danger of running out of waste coal in our lifetime. Waste coal represents 30% of Consol's total coal mined annually, and until now waste coal hasn't had a tremendous value...obviously that's about to change.
Currently, SES owns and operates a plant in China that utilizes the U-Gas technology, along with two plants under development in China. SES's competitive environment is virtually non existent in the industrial space niche. Last week the company announced the hiring of the former head of Gasification/Chemicals of GE. Not too bad for a company that was formed in 2004.
SES picked up analyst coverage on 2/06/08 by Merriman Curhan Ford with a "Buy" rating and a $23-27 price target. Additionally, on 2/14/08 Johnson Rice & Co. picked up coverage as well, releasing their report with an "Outperform" rating and a 12 month target of $25/share. Having had talked to the analyst at MCF, he feels that if prices for methanol remain at the current rate per ton, his price targets maybe too low.
With coal prices rallying, all the "Best of Breed" coal/mining companies are breaking new highs. Look for Synthesis Energy Systems to participate in the rally.
Disclosure: Author has a long position in SYMX