Manitowoc (NYSE:MTW), one of the leading construction equipment firms in the world, has consitently produced stellar results. Management has achieved a 28% EPS growth in the past two years and been one of the prime benefactors of the global construction booms. The company's crane's have received rave reviews from a variety of different publications and allowed the company to consistently gain market share; it has done a particularly good job on positioning itself in emerging markets such as India, China and the Middle East.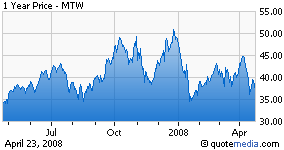 MTW is has come in 50% off its highs, mainly due to doubts over its recent acquisition of food equipment maker Enodis. Some people have contended that the acquisition is not in line with the company's core competence and has overlevered the firm.
Since when does a company not deserve to diversify its businesses. While food equipment is certainly not cranes, maybe there are synergies that management thinks it can exploit? Agriculture, as far as I recall, is doing quite well, so why not add another growth business. MTW is known for engineering great equipment so why not seek to apply the same expertise to a different field. Maybe management's long-term goal is to steal some market share from Deere (NYSE:DE)?
People have been way to doubtful of management, which is quite perplexing in light of the fact that the company has beaten earnings and raised guidance virtually every quarter in the past two years. The company is set to report earnings on April 28th and I expect the stock to trend higher significantly after the report. Despite the acquisition, S&P has maintained a strong buy rating on the stock with a price target of $61. The risk reward on this stock is way too good to pass up.
Other people's doubts are your opportunity to buy a best of breed company at a troth valuation.
Disclosure: Author has a long position in MTW