Google's (GOOG) 2Q earnings satisfied investors who had been cautious. However, the real story behind Google's stock price performance has been its P/E multiple compression. A we discuss below, this trend has mostly played out and Google's stock price may benefit going forward as the headwind from multiple compression abates. Regarding 2Q earnings, the key metrics for Google are Paid Clicks, up 42% YoY, and Cost Per Click ("CPC"), down -16% YoY. We think that as long as Google continues to show solid growth in its core business it should receive a premium valuation because of the optionality in its emerging businesses, including YouTube, Android and enterprise. In this update we will review the 2Q results using our six question earnings checklist (see also our analysis of other tech companies' 2Q earnings: IBM (IBM), Intel (INTC)). As well, we will look at the valuations of comparable companies and explain our basic thesis for owning Google's shares.
Introduction: Analysis of Google's P/E Compression
Since the time of its IPO in 2004, Google's P/E ratio has compressed to approximately 18x. Multiple compression is not unique to Google. The challenge for high valuation / high growth companies is to generate earnings growth to keep the share price high while the P/E multiple inevitably compresses as some of the initial shine wares off.
The following chart compares Google's stock price (blue line) with its P/E ratio (orange line) over its history as a public company. After the initial rally from the IPO to 2007, Google's stock has since traded in the $500-$600 per share range. However, Google's P/E ratio decreased by more than half during this period.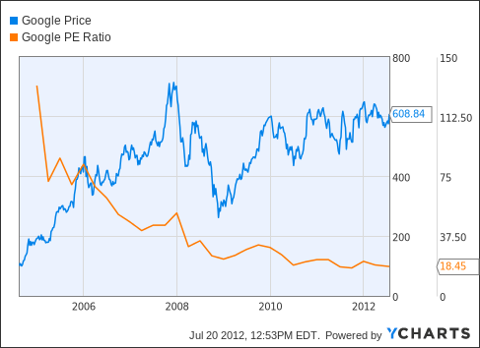 GOOG data by YCharts
The flat stock price and P/E multiple compression hides the strong EPS growth that has continued over the same period.
GOOG Earnings Per Share TTM data by YCharts
Although Google's P/E ratio of 18x is still at a premium to the overall market, we believe that the majority of the multiple compression has already occurred. It is possible that Google's multiple will compress further, but we think that Google deserves a premium because of the growth prospects in its core business and the optionality, which is hard to value, in its emerging businesses such as YouTube, Android, enterprise and other projects. As a result, EPS growth should soon replace P/E multiple compression as the key driver for the stock. When this happens we think that Google's stock price could head higher.
We have mentioned Wal-Mart's (WMT) rise to a record share price several times in our weekly updates (most recently in Market Update: S&P 500 At A Crossroads As JPMorgan Offers Relief, Wal-Mart Hits New Highs).
Wal-Mart's trading range going back to 1999 was also accompanied by P/E multiple compression.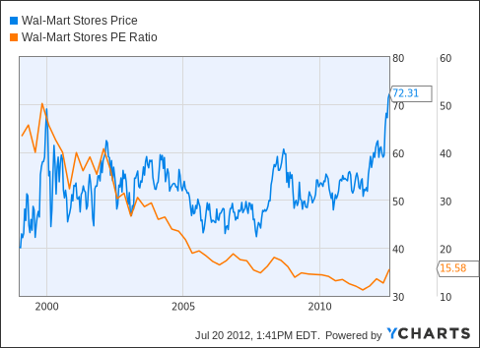 Only recently has Wal-Mart's multiple compression halted. We think that a similar pattern will occur with Google. We are not sure of the timing of Google's next upswing, but it makes sense to start planning for a scenario where EPS continues to grow and the multiple stops compressing.
Apple (AAPL) is one of the rare companies that was able to grow significantly while experiencing multiple compression. It is interesting to note that much of Apple's climb occurred after its multiple compressed to roughly the market average. Since 2008/2009 its share price increased without a large increase in its P/E multiple.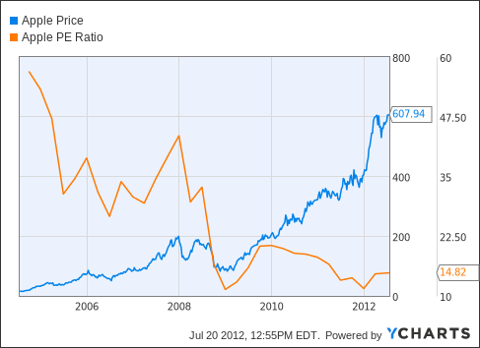 The discussion of Google's P/E multiple misses an important point about the optionality in Google's business. Recently, Kurt Eichenwald wrote an article in Vanity Fair about Microsoft (MSFT). The article says that Steve Ballmer, CEO, would say that Microsoft should be "last to cool, first to profit," meaning that Microsoft did not need to be on the cutting edge and could use its vast resources to catch up. The results of the last decade prove that this approach did not work (though Windows 8 may be his redemption). Google, however, is not making the same mistake. It is continuing to innovate with some very promising businesses and a few oddball engineering projects.
Google has hidden value in its YouTube, Android/Chrome, and enterprise businesses as well as mobile. Although these platforms are not significant contributors to Google's results today, they have much potential for the future.
Commenting on YouTube, Nikesh Arora said during the conference call (see transcript from Seeking Alpha here):
"Earlier in May, we saw an incredible digital upfront of it [...] highlighting our YouTube programming partners. Slightly over 13,000 clients attended, some of the worlds biggest advertisers were there and they're making significant commitments on YouTube including people like Unilever, AT&T and American Express."
Furthermore, regarding the enterprise opportunity he said:
"Let's talk about the third theme, the technology, where we are in our enterprise business. I think it's become clear for us that we have a serious small, but growing business, which is going to be a future growth engine for Google. I hope you read this week about a company, who said competition was 50% more expensive than Google, and not as cool. That company is now $200,000 a year Google apps customer.

Companies, schools, governments worldwide are moving to the could faster than ever. More than 5 million businesses have now gone Google worldwide. The traction amongst large organizations even such as the U.S. Department of Interior, Fairfax Media in Australia, et cetera. I think it's clear, you can't fake a commitment to cloud computing, and we've invested to build and scale a business that has gone to upstart to upper crust.

Thousands of businesses switch to Google apps from our competitors everyday. Recently, we've launch products like Google Drive, Google Maps Coordinate, as well as the ability to edit documents off-line and in a whole range of mobile devices and tablets. That just shows you the pace of innovation that Google is bringing to the business technology."
We do not want to make projections about Google's emerging businesses and some of them may fail. However, Google has a deep bench of businesses that could have a positive impact on its future earnings potential.
Did the Company Beat Expectations, and Have Expectations Been Rising / Declining?
Google reported 2Q 2012 revenue of $12.2 billion, up 35% from 2Q 2011.
This was the first quarter that Google's results included the performance of Motorola Mobility (the acquisition was closed in the middle of the quarter, so Motorola Mobility's results do not reflect a full quarter). The traditional Google business (excluding Motorola Mobility) generated $10.96 billion of revenue, up 21% from 2Q 2011.
GAAP EPS was $8.42, up from $7.68 in 2Q 2011. Non-GAAP EPS was $10.12, up from $8.74 in 2Q 2011.
Google's revenue came in below analyst estimates, but Non-GAAP EPS beat by $0.08.
Given the noise around the Motorola acquisition it is hard to tell how analyst estimates changed recently. (If anybody has better data about this, please add it in the comments section below. Thanks!)
What Drove the Results?
Google's 2Q earnings material can be found here.
There is an ongoing debate among analysts, commentators and investors about the key metrics for Google's business. Two key metrics are Paid Clicks and Cost Per Click ("CPC"). Google is continuing to expand its Paid Clicks, but its CPC is declining. CPC declines are mainly attributed to the growth of mobile search, which is less profitable than the traditional format. Other factors, such as search in emerging markets, are also bringing down the overall CPC figure. During the conference call Patrick Pichette, CFO, said that currency headwinds negatively also impacted CPC in 2Q.
Paid Clicks increased 42% in 2Q 2012 from 2Q 2011 and 1% from 1Q 2012.
CPC decreased 16% in 2Q 2012 from 2Q 2011, but increased 1% from 1Q 2012.
Investors that are bullish on Google would argue that the growth of Paid Clicks is more important than CPC declines since Paid Clicks growth means that Google is expanding its market and will eventually figure out how to earn more on mobile. Some would add that mobile search is mostly incremental to traditional search since it occurs when people are out and about and could not otherwise access Google. Google bulls would also underscore that revenue is still growing in the 20% range, even with declining CPC.
However, Google bears would argue that investors should focus on the declining CPC. They would argue that mobile search is cannibalizing traditional search and that the low mobile monetization will drag down the CPC of traditional search.
Regarding the revenue growth by geography, the CFO said,
"Turning to geographic performance of Google standalone business, U.S., UK and rest of world are growing at a good pace as reflected in our results... Revenue from the U.S. was up 20% year-over-year to $5 billion. Our non-U.S. revenue accounted for 54% of our total revenue or $6 billion, and was up 22% year-over-year, which includes $81 million benefit from our hedging program. The UK was up 20% year-over-year to $1.2 billion, and then fixed FX term; in fact the UK grew 22%."
The addition of Motorola also had an impact on the results. However, Google gave little color on its plans for Motorola. During the conference call Patrick Pichette said that the Google team only recently delved into Motorola and it will take some time for their work to have an impact.
What Are the Implications for the General Economy?
Google's results reflect global demand for internet advertising. During periods of weak economic activity, companies generally cut back on advertising as they seek to reduce expenses, especially if consumer demand is weak.
Although Google's revenue came in slightly below expectations, Google's growth does not indicate that there is a pullback in advertising. Actually, it seems that in most regions it is business as usual for Google, which is a good sign in an environment dominated by concerns of a global slowdown.
What Is the Guidance Going Forward?
There was no specific guidance.
How Did the Stock Perform Going Into Earnings?
Google declined approximately 15% from its late March peak to its June low. Investors may have sold the stock on fears of a weak advertising environment. Clearly, expectations for the 2Q earnings results were low.
(click to enlarge)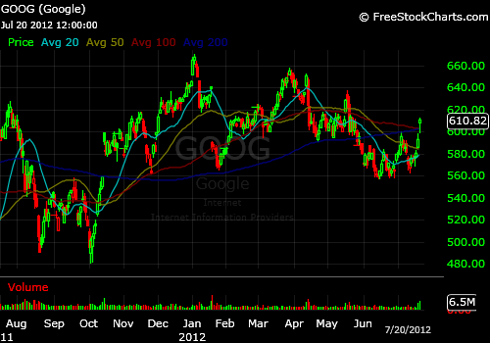 (Source: FreeStockCharts.com)
What Is the Market's Reaction to the Results?
On Friday, Google's stock price increased 3% in response to the earnings results. Google climbed to $610.82 per share, a level not seen since late May. Although the initial reaction was positive, it is important to see the reaction next week to the initial reaction. Some companies that reported 2Q earnings jumped up on the results, but then erased those gains. It would be constructive for the stock to trade sideways for a few days and consolidate the initial gains.
Comparable Company Analysis
The following analysis looks at the valuation of Google compared to Apple, Microsoft, Amazon (AMZN), Facebook (FB) and Yahoo (YHOO). Not only is Google's valuation reasonable compared to its past history (as a result of the multiple compression), but Google's valuation looks reasonable compared to other internet companies.

Conclusions
Google's home page is simple, but as a corporation it is becoming increasingly complex. The addition of Motorola Mobility, the recently announced stock split / dividend as well as many futuristic engineering projects sometimes create noise that takes away from the core story.
Our bullish view on Google is based on Google's core business continuing to grow. Those earnings will have more of an impact on the stock price as the headwind of P/E multiple compression abates. Furthermore, we think that Google has hidden potential in several emerging businesses that could have a big impact on its results in the future. Therefore, we have a positive view on Google and hold its shares.
There are many risks to the bullish thesis on Google. Although the global slowdown has not yet had a big impact on Google's results, continued macro pressures and slowing global growth could negatively impact Google. Furthermore, Google faces fierce competition from many large and small companies. As the technology world changes rapidly, another company could quickly take share from Google. The social revolution, led by Facebook, is one area where Google is relatively weak and could lead to more trouble for Google in the future. Additionally, mobile may cannibalize much of Google's traditional business and Google's success in monetizing mobile is still unclear. Finally, Google made a large bet on Motorola Mobility and it is not clear how it will turn out.
Although we are bullish on Google and own the shares, we have a stop in place below the June lows to protect against large losses in case we are wrong or the macro environment deteriorates.
Disclosure: I am long GOOG, IBM, AAPL, WMT.
Additional disclosure: We may trade any of the stocks mentioned in this article in the next 72 hours.