As often mentioned by Apple (NASDAQ:AAPL) shareholders and cheerleaders, the fundamentals of Apple will continue to rule the day. I share much of the same sentiments but I am also aware of the conflicting reports that have popped up about Apple of late.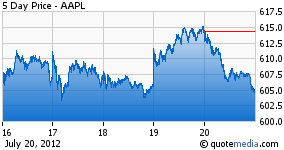 The fundamentals of the company have not changed a bit. They are still overwhelmingly strong and point to higher share prices in the future.
That being said, Apple's share price has been erratic over the last week of trading, starting out at about $608/share, up to over $615/share and back down below $605/share by the end of the week.
To me, much of the confusion can be encapsulated by this Seeking Alpha "Market Current";
"Friday 5:29 PM Bernstein and FBR air a familiar refrain about Apple's (AAPL) Tuesday FQ3 report: They're worried Apple could miss estimates and issue weak FQ4 guidance, but are staying bullish on expectations of a huge FQ1. Bernstein thinks China and Europe's macro issues, the late introduction of a MacBook refresh, and the failure of the new iPad to launch in China until today will lead to an FQ3 miss."
So let me get this straight; Analysts are worried about an earnings miss now, but are bullish on a huge FQ1 in 2013. Ok, but they also see a FQ3 miss (that's the one after this Tuesday's release).
No wonder investors and traders have been erratic over the past week or so. Not even the so called "experts" can agree on whether this earnings report (or even the next one) will be a positive or negative.
At first it appeared that Apple will do its usual of promising low and delivering high, but it appears that it might not happen that easily this time around.
MarketWatch just came out with a report stating that Apple may see some "speed bumps" in iPhone sales:
Apple as usual, has given no clues beyond stating the planned launch of its next mobile operating system update to be "this fall." That update - called iOS 6 - will presumably ship with the next smartphone device, which most expect to be called the iPhone 5.

That leaves investors and Wall Street to pretty much guess at the company's results for its fiscal third quarter, which will be reported on Tuesday after the closing bell. And most are predicting that sales of the popular smartphone will decline over the next two periods, as consumers await the new device that may sport a refreshed design and the ability to connect to the latest generation of LTE networks.
By no means is this an absolute negative, going forward. However to me it appears that the stock could face some headwinds as it tries to match its 50% increase in price from the beginning of the year.
With estimates for this quarter to be earnings of $10.37 per share on revenue of $37.5 billion, compared to earnings of $7.79 per share on revenue of $28.6 billion for the same period last year, the share price might have already anticipated these increases, and perhaps even an earning beat.
How Should We Go Long And Still Make Money If The Stock Drops?
Seems to me that this is the trillion dollar question right now, so I have a few suggestions.
If you currently own shares I would take a look at selling the August 12 calls at a $640 strike price to collect an approximate premium of $760/contract. You will also have another $35.00/share profit in the share price IF the stock price jumps (almost to its all time high of $644.00/share). If the share price drops or remains flat you pocket the premium and still hold the shares long.
If you want to have some insurance while you sell the calls, take a look at the August 12 puts at a strike price of $605 and consider buying it for $2165/contract for an in the money put to protect you if the price declines. By using the premium gained by the sale of the calls, your cost for this "insurance" would be roughly $1400/contract. In this manner you have reduced the premium you pay for buying the put. You can make money on the put option if the share price drops, and if the share price goes up, you can make money that way as well as the premiums on the sold call options.
To take this one step further, as a long you might want to take advantage of a sudden drop in the share price by adding more shares to your holdings. If that is the case, I would take a look at selling a cash secured put. The August 12 put at a strike price of $565 would give you a premium of $775/contract when you sell it and the ability to add shares at a net net price of $558/share if the price takes a roughly 10% drop. It will also further offset the cost of the puts you had purchased for downside protection down to a net cost of roughly $625/contract.
To sum up: Selling a call will give you a premium and a little downside protection, but the shares can get called away if the price surges. If the price surges, you will have lost money on the "insurance" puts you purchased, but have seriously limited your cost by also selling cash secured puts of which you will keep the premium if the price surges. If the share price drops, you will still own your shares, keep the premium on the sold calls, make some money on the puts you purchased for downside protection, and might even be able to add more shares to your holdings with a precipitous drop to $565/share by options expiration.
My Opinion
As an Apple bull, the fundamentals speak for themselves. There are many who attempt to trade around earnings reports and fail because they do not cover as many bases as possible to reduce risks.
The strategy I have laid out carries as much risk as any investment and is really for those with a really good handle on option strategies and who are willing to follow the transactions closely, to further minimize risks. I would certainly not take my opinion at face value because it is something that I would consider doing myself. You must do your own due diligence on the math and how it works out for yourself.
Disclosure: I have no positions in any stocks mentioned, and no plans to initiate any positions within the next 72 hours.