Get your noseplugs ready. According to Bloomberg, Intrepid Potash's (IPI) surging shares on its first day of public trading may be a sign of a nascent fertilizer bubble: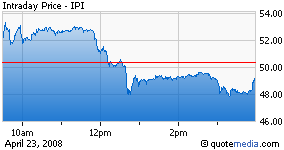 After surging 58 percent in its first day of trading, Intrepid -- the largest U.S. producer of potash, according to its IPO prospectus -- is valued at 201 times last year's pro-forma earnings of 25 cents a share.

This makes the Denver-based company's shares more costly than those of Cisco Systems Inc., the world's biggest maker of computer-networking equipment, when the Internet bubble reached its high point in March 2000. Cisco peaked at 193 times profit, according to data compiled by Bloomberg.
Bloomberg goes on to suggest that the stock's impressive first day of trading was not surprising, given rising potash and other fertilizer prices.
WSJ's Marketbeat blogger David Gaffen adds that :
After the 57.5% first-day gain in Intrepid Potash Inc. on Tuesday, other major potash companies were pulling back in activity Wednesday, including Potash Corp. of Saskatchewan, Mosaic Co. and Agrium Inc. Other agricultural names were lower as well.
Finally, Kevin Price notes that:
[Tuesday's] furious IPO of Intrepid Potash, coming on the heels of a truly parabolic run in the group over the last several weeks, does have a certain late-in-the-game feel, doesn't it?