Investment Grade Corporate Bonds are currently the toast of the town. Over the last month, the already steadily rising asset class has shifted into a parabolic move higher. But as investors clamor excitedly into these high quality corporate bonds, they may be unwittingly walking right into a nasty bear trap.
The motivation for investors to own Investment Grade Corporate Bonds certainly makes a great deal of sense. The asset class has been virtually bullet proof over the last several years in the aftermath of the financial crisis, rising steadily with only a few brief and shallow pullbacks along the way. Investment Grade Corporate Bonds also offer a favorable income premium over U.S. Treasuries, which is particularly attractive in the current low yield environment. And unlike common stock investors that are facing uncertainty about the ability of companies to maintain revenue and earnings growth amid a weakening global economy, those focused on investment grade corporate bonds need only be concerned with the ability of companies to meet their debt obligations, which is a positive attribute given the strong health of most corporate balance sheets today.
click to enlarge images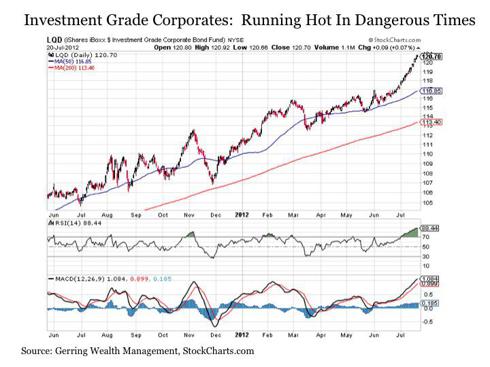 Click to enlarge
Over the past month, the fervor for owning Investment Grade Corporate Bonds has reached a fever pitch. The normally staid asset class has gained nearly +5% since early June. The category is also now heavily overbought with momentum readings well beyond previous peaks. And one does not need to tune in long to the daily business news programs to hear a guest touting the category as a wise allocation during these unsettled times for investment markets.
Now, if you are an investor doing your own credit analysis and selecting individual bonds for your portfolio, that's one thing. But for many investors, their exposure to the Investment Grade Corporate Bond market is achieved either through a mutual fund or an ETF such as the iShares iBoxx $ Investment Grade Corporate Bond (NYSEARCA:LQD), the iShares Barclays Intermediate Credit Bond (NYSEARCA:CIU) or the Vanguard Intermediate-Term Corporate Bond Index (NASDAQ:VCIT). These products provide diversified exposure to a basket of bonds across a variety of industries. In a normal environment, such diversification would be a positive. But in the current environment, it represents a potentially meaningful danger going forward.
Here's why. Most Investment Grade Corporate Bond mutual funds and the ETFs listed above have a heavy exposure to the financial sector. Focusing on the LQD as an example, financials represent the largest allocation at 34.75% of the entire product. And within this financials allocation, 6.34% of it is specifically invested in European financials including names such as Barclays, BNP Paribas, Credit Suisse, Deutsche Bank, Royal Bank of Scotland and UBS. So by owning a product like LQD, investors are taking over a third of their money and parking it with financials including a solid chunk specifically with the European banks that continue to stand at the front lines of a major crisis battle across the Atlantic. Not for the faint of heart to be sure.
At this point, one could easily call me on the carpet. After all, it was almost exactly one year ago that I published an article on Seeking Alpha highlighting this very same risk and announcing my decision to sell my sizeable stake in LQD after holding it for several years since the immediate aftermath of the financial crisis in late 2008. And since that time, LQD has mostly moved higher, particularly since the end of November 2011. In this past article, I indicated that a time might come where I may reallocate back into LQD. But I have not done so, nor would I consider it now given recent developments.
The following is the critical reason why. While early on my call to exit LQD, the development that I long feared as a holder of bank debt appears to finally be coming to pass. As part of the developing bailout of Spanish banks by the European Union, senior debt holders of these banks may be forced to take losses. And going forward, regulators across the globe are actively considering the possibility of imposing future losses on senior bondholders, as they can no longer justify passing along the entire cost to taxpayers in most instances.
The significance of this development to the corporate bond market cannot be understated. For up until this point, the idea of applying even the smallest of haircuts to the senior holders of bank debt was absolutely out of the question, as regulators did not want to spark a rise in bank borrowing costs. As a result, senior bondholders felt confident that they would be made whole even if losses were significant enough that taxpayer support was required. This, of course, helped keep a bid under the bond prices of even the most at risk major financial institution. But it now appears that such support may no longer be in place going forward.
This raises an important consideration for Investment Grade Corporate Bond investors in the future. Europe is already on the brink of crisis as the global economy continues to decelerate into the second half of the year. And the United States is adding to the uncertainty with the fiscal cliff looming at the end of the year. As a result, we stand on the precipice of another global financial crisis boiling over at any time in the months ahead. If such an outbreak were to occur, it is far more likely that bond prices in the financial sector could take a severe hit due to the uncertainty associated with the future recovery value of this debt.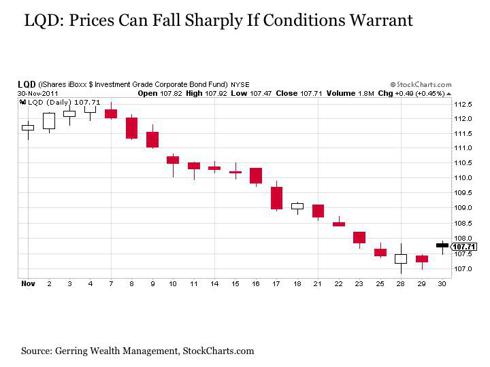 Click to enlarge
One has to look no further than November 2011 for an example of how the Investment Grade Corporate Bond market might react if the market suddenly raised concerns about the potential for another global banking crisis. During that time, short-term liquidity markets began locking up, particularly in Europe. This raised concerns at the time that we might soon be on the precipice of another financial crisis episode. These risks induced Investment Grade Corporate Bonds to plunge by nearly -5% over the course of just 16 trading sessions that included 14 down days along the way. Given that such a pullback occurred in an environment where the implicit understanding was still intact that senior debt holders would be made whole no matter what, it stands to reason how much more severe a potential pullback could be now that senior bondholders may now face the prospect of sharing in the losses.
For these reasons, if you recently hard charged into Investment Grade Corporate Bonds, it may be worthwhile to consider at least lightening up on positions, particularly given the fact that the category is now heavily overbought at present. And if you do not own the position, it may be prudent to at least wait for a pullback in the broader sector or instead seek to explore more targeted alternatives such as the iShares Utility Sector Bond (NYSEARCA:AMPS) or the iShares Industrial Sector Bond (NYSEARCA:ENGN), both of which provide Investment Grade Corporate Bond exposure without the allocation to the financial sector.
Stay careful out there as we move through the second half of 2012. While the waters continue to appear calm at the moment, choppy seas may soon lie ahead. And depending on how events unfold, these risks may negatively impact the Investment Grade Corporate Bond market far more profoundly than it has over the last several years since the outbreak of the financial crisis.
Disclosure: I have no positions in any stocks mentioned, and no plans to initiate any positions within the next 72 hours.
This post is for information purposes only. There are risks involved with investing including loss of principal. Gerring Wealth Management (GWM) makes no explicit or implicit guarantee with respect to performance or the outcome of any investment or projections made by GWM. There is no guarantee that the goals of the strategies discussed by GWM will be met.