For all of you heading to Rio de Janeiro, but are worried about the crime, you can breathe a sigh of relief, as the city's crime rates have started to drop. How, you may ask? This is due to Israeli technology. One of our favorites, Verint Systems' (NASDAQ:VRNT) surveillance systems have made a dramatic impact in fighting crime for the Brazilian city. So much so, that its system is being deployed in more areas than originally planned.
The success to date of Verint's Nextiva Critical Infrastructure has earned praise from those connected to crime fighting. Edval de Oliveria Novaes, Under Secretary of Intelligence for the city of Rio de Janeiro, said:
We are committed to providing a safe city atmosphere for the residents and visitors of Rio de Janeiro, and through our expanded deployment of Verint'sNextiva solution, we will continue to decrease crime rates to allow our economy to thrive. We've already seen dramatic, positive results from the initial deployment, and this expansion will build on that success.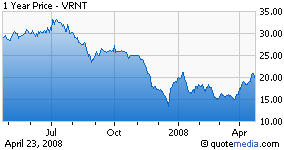 The success of the initial implementation, which contributed to the reduction of crime rates by over 50% in the high-traffic area of Copacabana Beach, is staggering. Obviously this is a big win for Verint as a major deployment in such a major city, proves their effectiveness in video surveillance. It's just a shame that only now things are safer at Copacabana Beach - better late than never.

Disclosure: The author's fund has a position in VRNT.PK, but his fund has no position in any other stock mentioned as of April 24, 2008.