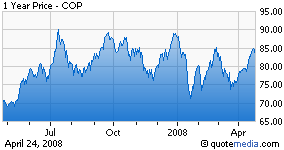 Conoco Philips (NYSE:COP) beat the Street estimates ($2.42) by $0.20 ($2.62). Daily production was 1.79 million BOE a decrease from 1.84 million BOE in the pervious quarter and 2.02 million BOE in Q1 2007. Most of the decrease can be attributed to the expropriation of the projects in Venezuela, as well as unplanned downtime. Net income was $4.14 billion dollars. EPS were up 17%. Good action!
Significantly higher natural gas prices (currently $10.78) contributed to the midstream year-over-year comparisons. In my mind, this completely validates the takeover of Burlington Resources' natural gas reserves, for which the company was severely criticized. The Burlington nat gas reserves were purchased at significantly under $5. Jim Mulva is vindicated and should be recognized for what he is: the best CEO in big oil. Not only is he a great oil executive, he has been outspoken about the environment and the need to address the urgent realities of peak oil.

Knowing the market, COP will trade down today. That said, COP is expected to earn over $10/share this year. How does ConocoPhilips not trade over $100 this year?

Here is the complete earnings release.

Disclosure: I am long COP common stock.