Actionable Items:
CEF Weekly Review: On average, the 13 closed-end fund ((NYSEMKT:CEF)) types registered a share price increase of 0.5% for the week ending 7/20/12. The high-low spread (average percentage price change difference between the highest and lowest fund types) registered this week was +1.5% versus +1.7% the previous week.
The PowerShares CEF Income Composite (NYSEARCA:PCEF), an ETF that invests in taxable fixed-income CEFs, advanced 0.8% for the week. PCEF is now up 6.2% YTD on price appreciation alone. Currently, PCEF's trailing twelve months' yield is 8.2%.
Reality Seeps in Around the Edges: Earlier this week-after some hesitation-investors determined that the Fed had but no choice to initiate another round of quantitative easing sometime in late-summer or early-fall. This positive sentiment was bolstered by "not as bad" earnings from some of the major blue chips led by IBM and G/E.
However, as the week wore on, Europe took on greater importance. Yields in some of the larger southern European countries are now indicating that debt funding of both the sovereign and their related banks are not achievable at these levels with no long-term solution in sight.
For the week the S&P 500 was up 0.4% and is now up 8.4% YTD. The ETF (NYSEARCA:SPY) experienced a small tracking error and was up 0.5%. S&P 500 Trading volume (Pending:GSPC) this week advanced 8.2% to an average 3.5 billion shares. Volume continues to be below long-term averages. Volume surged to 4.5 billion shares on Friday as the S&P 500 dropped 1%.
CEF Weekly Fund Type Performance: The yield nature of CEFs continues to attract investors. Average weekly share price performance for CEFs fund types weighed towards fixed-income oriented CEFs. The first three fund types were: InvGrdBndFnds, NatlMuniBndFnds and LoanPartFnds, up 1.1%, 0.9% and 0.9%, respectively. Both Western Asset Premier Bond Fund (WEA) and Western Asset Investment Grade (NYSE:IGI) propelled the InvGrdBndFnds by surging over 3.0% for the week.
Equity-oriented CEFs were laggards this week with GenEqFnds and WrldEqFnds down 0.4% and 0.1%, respectively. Two of the more curious weekly average fund type price changes were LoanPartFnds which was up 0.9%. LoanPartFnds usually advance when interest rates are anticipated to rise. Secondly, the disappointment over the Fed not specifying the timing of its quantitative easing may have taken some of the wind out of the sails of USMrtgBndFnds which was down 0.1%. However, mortgages appear to be a target area for such quantitative easing.
click to enlarge images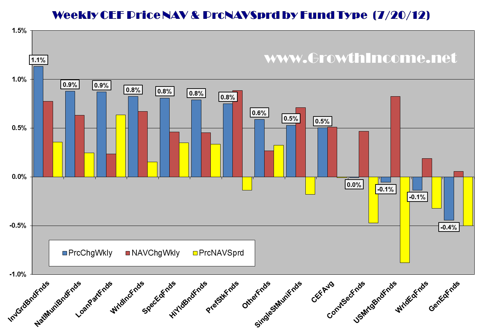 Weekly CEF Winners and Losers: One of the CEFs with the greatest positive PrcNAVSprd* for the week was Western Asset Intermediate Muni Fund . SBI's share price advanced 4.7% while its NAV per share increased 0.1% generating a positive PrcNAVSprd of 4.6%.
SBI invests in investment-grade, intermediate municipal bonds. Its nominal stock yield is 4.4% while its taxable equivalent yield was 6.8%. SBI trades at 5.0% premium. SBI's weekly price advance was in the face of it going ex-dividend ($0.04 per share) this week. Interestingly, there was elevated volume on its ex-date as well as the following day. This may indicate a sector shift by an investment advisor that wanted to be in the fund type or a dividend capture program.
One of the CEF(s) with the greatest negative PrcNAVSprd for the week was Cornerstone Progressive Return Fund . CFP's share price declined 4.6% while its NAV increased 0.6% generating a negative PrcNAVSprd of 5.2%. Its sister funds Cornerstone Strategic Value Fund (NYSEMKT:CLM) and Cornerstone Total Return Fund (NYSEMKT:CRF) suffered significant negative PrcNAVSprds of 3.5%.
Unpleasant Press: The funds were hit by some unpleasant press this week by some of the major financial publications. The first appeared on July 13th in the Wall Street Journal, entitled "High Rates? Are You Delirious? The second article appeared in Barron's magazine entitled, "At Cornerstone, High Yield Oases are Mirages" on July 16th.
Both articles point out what our readers already know that the share values of this group of CEFs are based upon a faulty premise: that a high nominal yield funded with a return-of-capital distribution, as opposed to investment earnings, is not an investment. It is more of a "piggy bank" from which your pay yourself the money you've contributed. These stocks should sell at substantial discounts as opposed to premiums.
Candidly, what we find troubling is that the president of Cornerstone advisors did not return request for comments. If Cornerstone has a legitimate strategy for its funds then it should articulate it. Check out any of the Cornerstone advised CEF websites-oh, that's right, they don't have any!
Insider Trading: Insider trading in CEFs continues to be low-grade during these summer months. Only one trade has been record this month for this stock market sector. One of the officers of Helios Total Return Fund (HTR) indirectly purchased 2,000 shares at a share price of $6.278 for a spouse. The officer in this case was Michelle Lyn Russel-Dowe who now directly and indirectly owns 7,875 of HTR.
Significant Events: KKR has filed July 18th a preliminary prospectus for an IPO CEF to be named KKR Alternative Corporate Opportunity Fund. The Fund will invest in "special situations" around the globe, such as distressed debt in Europe and Asia.
CEF Focus Stock(s) for the Week: Our focus stock for the week is Western Asset Mortgage Defined Opportunity Fund . As we indicated earlier in this article, the odds of a Fed quantitative easing program are fairly high and one of the targeted asset classes could be mortgage securities.
DMO trades at an annualized monthly distribution yield of 7.9% and at a modest premium of 2.0%. Its distributions are based on investment income and its average undistributed net investment income is $1.0962 per share. This indicates it has underpaid what it has earned in net investment income (a cushion for the distribution). The stock when ex-divided this week and volume was higher than average both the day before the ex-dividend and post ex-dividend possibly indicating it was part of a dividend capture program.
The net total assets of DMO are $280 million with effective leverage of 18.5%. Approximately 60% of the portfolio consists of commercial mortgage backed securities ("CMBS"). While not a direct "hit" on residential mortgage backed bonds, in a rising tide all boats rise. The credit quality of the portfolio is less than investment grade.
Last Week's Focus Stock(s): While last week's CEF Weekly was not published due to a data conversion that is being undertaken in conjunction with a significant upgrading of our current website, we published in its absence, on July 10th, a report entitled, "Why Large Cap CEFs Are Significantly Undervalued: ADX, GDV, TY, And ZF." Our thesis is large cap CEFs were being inappropriately valued and shares should be effectively valued 10% higher than their current share prices. On average, our group of four large cap CEFs advanced 2.2% versus 1.6% for the S&P 500 based on prices on the report's release to the general public. We continue to believe more value in this group is left on the table.
[*] All things being equal, price and NAV should move in tandem. A price movement greater than the NAV generates a positive PrcNAVSprd and may be interpreted as negative on a near-term basis and indicate that the stock is overvalued relative to its NAV which in theory is the stock's intrinsic value. The opposite would be true for a negative PrcNAVSprd.
Disclosure: I am long ADX, TY, PCEF. I own a diversified portfolio of CEFs and ETFs and am long stocks in the CEFBig10™ and CEFMuni10™.) The first is a balanced equity-income portfolio (CEFBig10™) and the second a tax-exempt income portfolio (CEFMuni10™).