By Alexander Crawford
The retail industry has been and will continue to be a big beneficiary of the economic recovery, and high among that list should be Perry Ellis International Inc. (NASDAQ:PERY). The worldwide retailer has seen a strong recovery over the last two years, and with low price multiples and positive market sentiment, the stock may well be headed higher.
Perry Ellis is an international retailer with several well-known names, including Penguin, Cubavera, and Rafaella, besides its brand legacy. The company engages in designing, sourcing, marketing and licensing apparel products, and its stock has a market cap of $314.19M.
Sentiment for Perry Ellis is decidedly positive. The number of shares shorted has decreased from 1.31M to 1.16M over the last month - a decrease which represents about 1.4% of the company's float of 10.72M shares. Days-to-cover ratio is at 11.68 days. The stock is trading just under its 20-day moving average and above its 50-day and 200-day moving averages. The stock may still have further to climb, given it's trading well below its 52-week high.
Despite this positivity, there is strong evidence that the stock may be undervalued. One such indicator is the Graham Number, or a stock's maximum fair value, created by famed value investor Benjamin Graham. Diluted TTM earnings per share at 1.25 and a MRQ book value per share value at 25.84 implies a Graham Number fair value = sqrt(22.5*1.25*25.84) = $26.96. Based on the stock's price at $20.40, this implies a potential upside of 32.15% from current levels.
PEG for Perry Ellis is at 1.03 and P/FCF is at 14.15. TTM P/S is at 0.33 vs. 2.24 for the industry on average. However, TTM P/E is at 15.6 vs. 14.37 industry average.
Over the last two years, Perry Ellis has seen a strong recovery in sales and earnings after a hit during the worst of the recession that affected most retailers. Five-year projected EPS growth is at 15.23% according to Finviz and 12.85% according to Fidelity.
The company sits on ample liquidity as well, with a current ratio at 3.96 and a quick ratio at 2.31. Debt to equity is sustainable at 0.52.
Overall, Perry Ellis looks to be in a strong position to benefit from the recovery of the worldwide consumer. Its strong balance sheet and rising profit trends over the last two years indicate that the stock may continue to have more value to price in as the recovery takes hold.
For a closer look at PERY stock, try the tool below
For an interactive version of this chart, click on the image below. Market cap data sourced from Zacks Investment Research.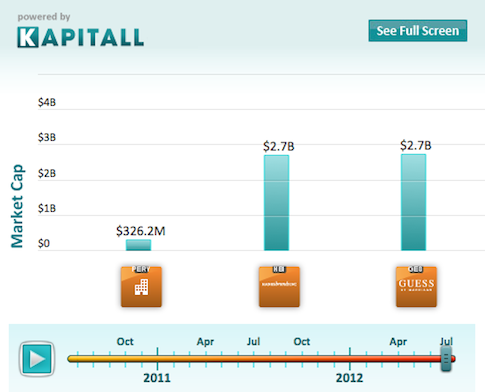 Tool provided by Kapitall.
*Price multiple data sourced from Fidelity, accounting data sourced from Google Finance, and short data sourced from Yahoo! Finance.
Disclosure: I have no positions in any stocks mentioned, and no plans to initiate any positions within the next 72 hours.